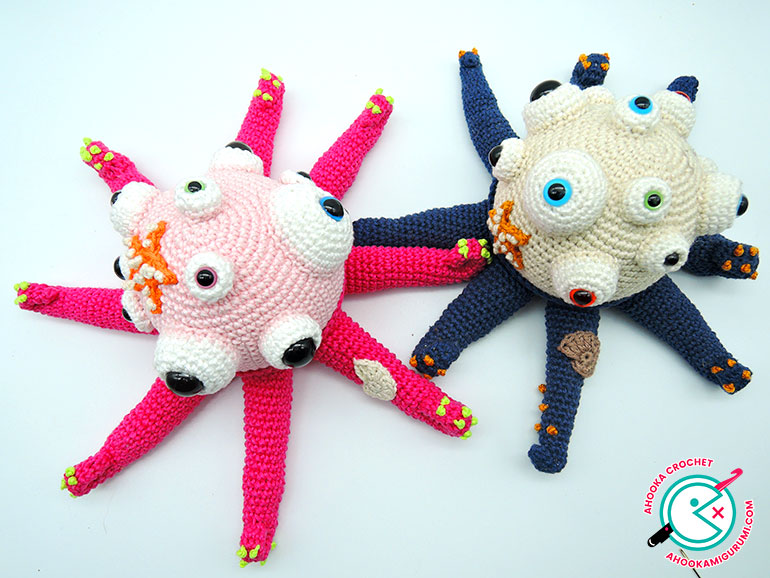 Two years ago (already?! Damn, I feel like I'm getting older and older ! Oh, wait…) I created Kraker for a contest. Today, as it's nearly Valentine's day, I'd like to tell you his story again, and especially the day he met the apple of his eye.
Disclaimer : I may or may not have tried to play on words in this article. Please remember I'm a French speaker and forgive me if I destroyed your language by doing so :D 
Kraker was born in the ocean, a long time ago (in a galaxy far, far away… Oh wait no, that's not that story). At the time, he was just a white ball full of eyes, and was called Oculus.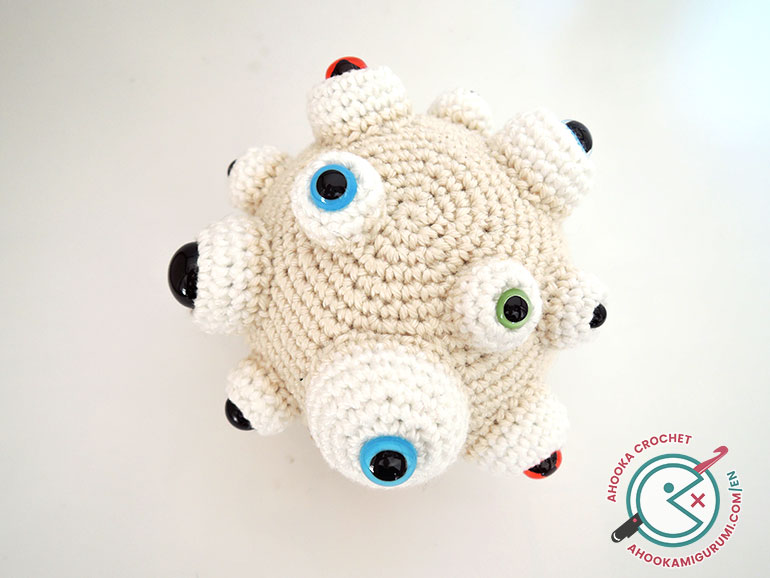 While most of his under-the-sea friends were considered to be creepy monsters, he was pretty funny to look at, and didn't succed in scaring anyone. But he was very smart and thanks to his numerous eyes, he was a very curious monster. He used to roam in the sea bed, looking for wrecks, keeping his eyes peeled to find precious old books. He read thousands and thousands of them.
One day, he ran into a very very old one, illustrated with tons of sketches. It was all about the story of a gigantic octopus monster : the Kraken.
Fascinated by its story, Oculus now wanted to look like it at all costs. He worked hard during long weeks and thanks to his eye for details, he finally managed to make himself a magnificent kraken cosplay. Super happy with his new fancy costume, Oculus also decided to borrow his new idol's name.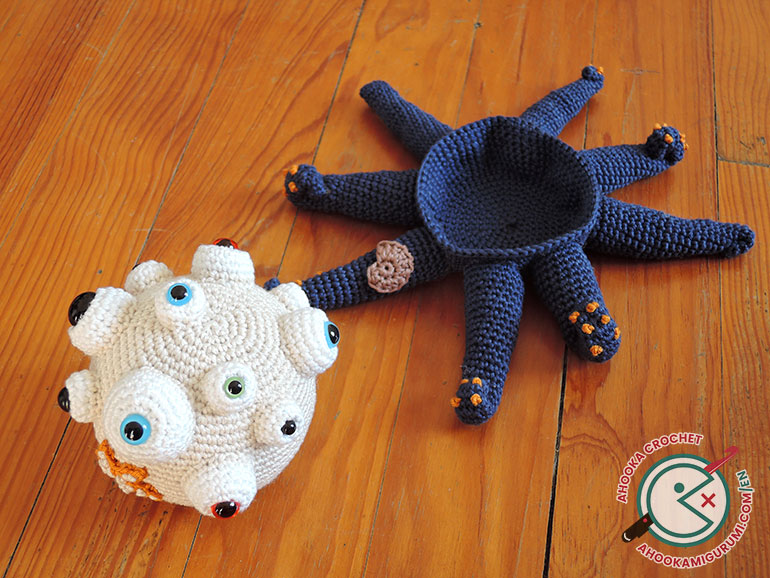 He had had an eye to becoming a scary monster for years, and the moment had finally come…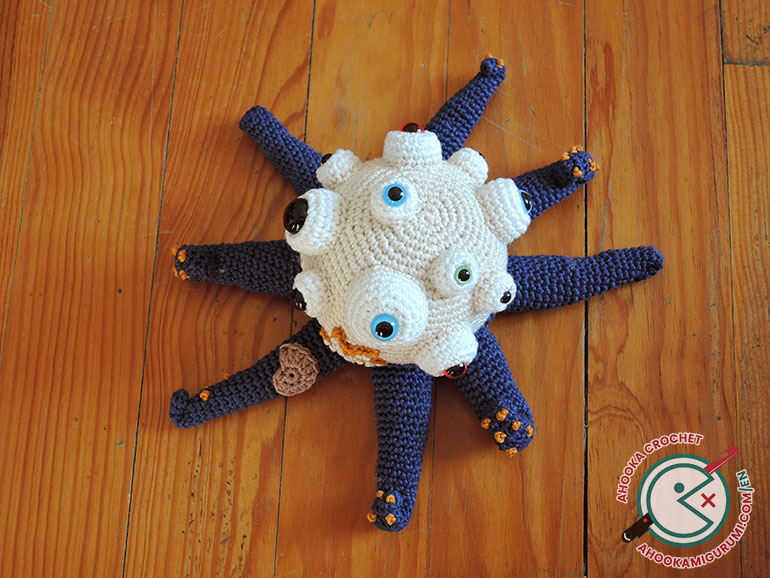 Oh yes… You're right, I said his name was Kraker, not Kraken… Well, unfortunately, the book was handwritten and our little buddy obviously needed to get some shut-eye when he read the book so… He misread the final "n"… And that's how Kraker failed to be taken seriously by his monsters mates, again…
At least, his new tentacles now enabled him to read 8 books at a time !
Months later, as he had found a gigantic library in a recently sunk ship, he heard a noise at the back of a shelf. And there she was, an eye candy light pink ball full of eyes… reading a pile of books, he couldn't believe his eyes. He approached her and asked : "Oh my ! What's on your face?", shocked, she replied "What? get if off !"… "Oh, it's just your beautiful eyes", he said. She burst into laughter, it was "love at first sight". Kraker made her a beautiful fuschsia cosplay in the blink of an eye, and she renamed herself Krakerina.
The end.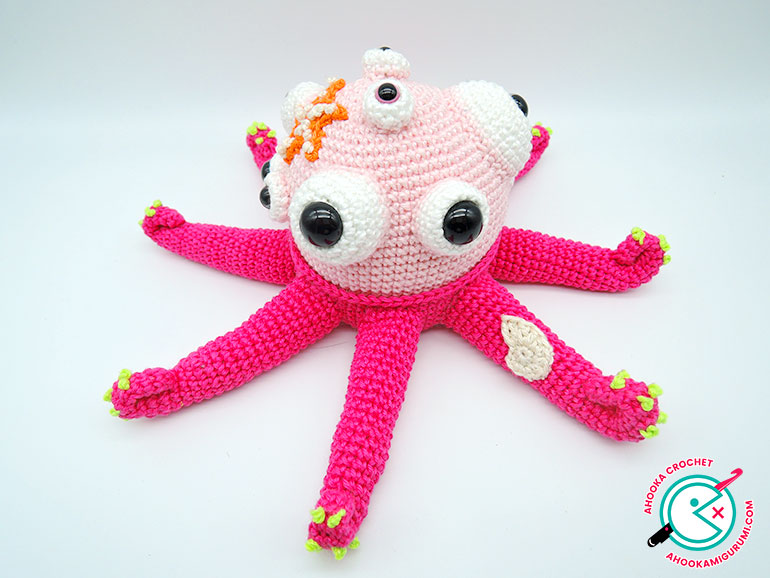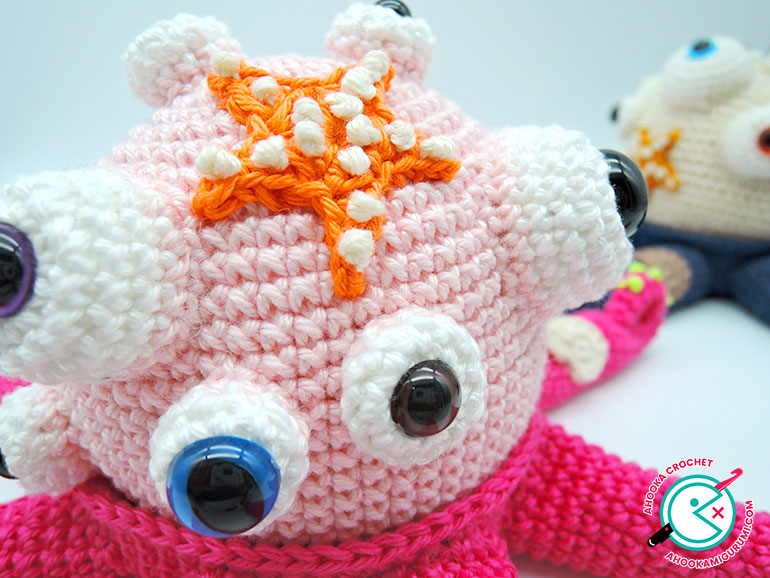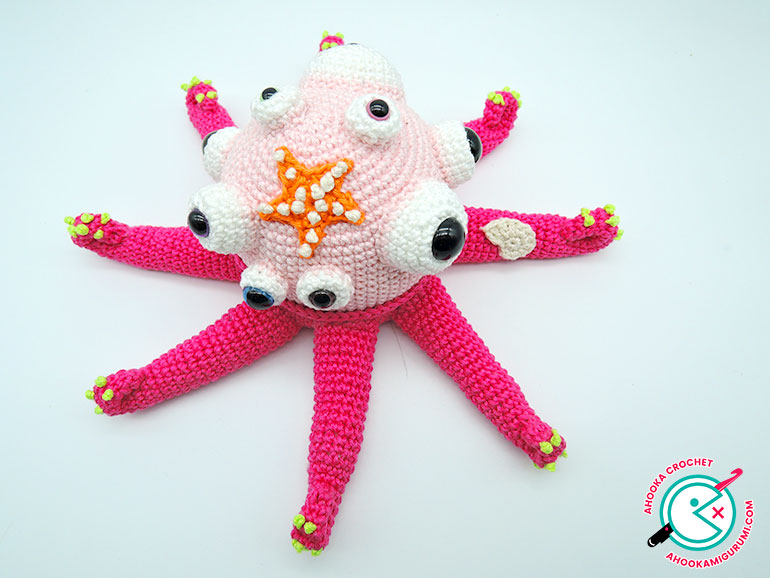 If you liked their story, you can now find Kraker and Krakerina's pattern here !
Yes, I want to throw an eye on the pattern !
(See you soon ^^)