Are you a crochet lover? Have you run into amigurumis and cannot do without them anymore? Do you like pop culture and would like to make unusual, fun and colorful items for you, your kids, family, friends, or even your customers? Are you looking for detailed and well illustrated patterns in English? Well, good news ! You're in the right spot !  
But, what is Ahooka'migurumi exactly ?
► An umpronounceable word which comes from those two :
• "Ahooka" – My designer name
• "Amigurumi" – Those cute little crocheted objects, so colorful and so relaxing to make ! 
► A blog with loads of free patterns, tips & tricks and inspiration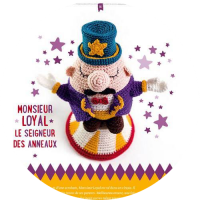 ► A pdf patterns online shop.
I created Ahooka'migurumi in January, 2014. At the time, I started by sharing my creations as well as the tips and tricks that I found during my projects. In 2015, I entered amigurumipatterns.net design contest with Loyal, the ringmaster and Meteoorbooks offered me a place in their upcoming book "Amigurumi circus". And that's when I started to consider living from my passion. 
And hey, WHO is Ahooka?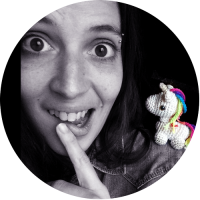 My name is Ophelie, I'm 32 and I'm a Belgian living in France.  Before becoming an amigurumi designer, I was a graphic designer.
I love superheroes and old video games design, Star Wars, World of Warcraft, the internet, pop culture but also the 60's, the flower power and combivans ! 
I live with a crochet hook graft in the hand. It needs high-fiber food daily (cotton, acrylic, linen) or it becomes seriously itchy ! 
I'm a dreamer and my perfect world would be governed by unicorns and inhabited by CareBears. 
You wish to contact me?
Send me an email at ahooka[@]ahookamigurumi.com (without brackets) or contact me on my Facebook page ! See you soon !