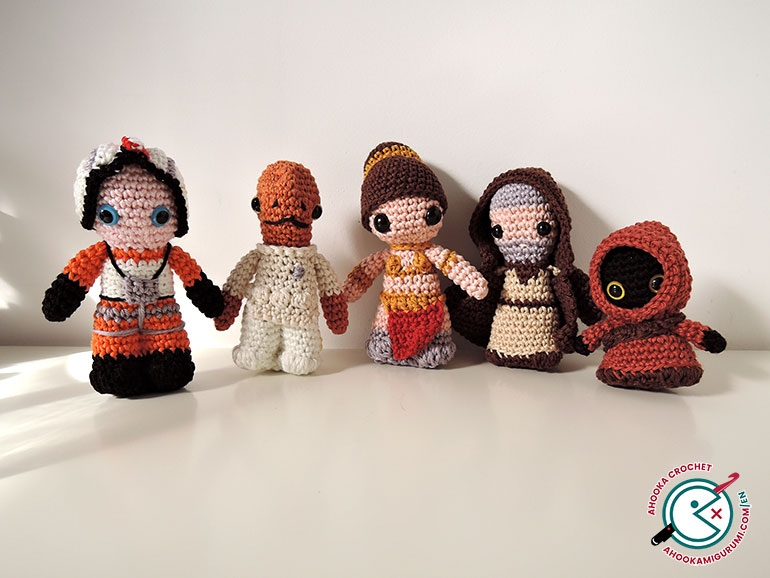 That's it, we're down to the last 5 LucyRavenscar (Lucy Collin)'s patterns that I wanted to show you in these "Pimp your patterns, star wars special". 
But wait? What is "Pimp your patterns"?
Sometimes I write patterns, sometimes I follow patterns. But, you know how it goes, we, creative people, always have to add a little something ! That's what "Pimp your patterns" is : my "little somethings". So, in this category, I'll be posting the patterns I followed, and all the changes I made to them so you can make them too if you'd like. 
► Also read : ▲Pimp your pattern▲ Star Wars special (part 1) !
► Also read : ▲Pimp your pattern▲ Star Wars special (part 2) !
As I told you before, these patterns aren't in the Star Wars Crochet kit, but were sold in her Etsy shop… Yes,…Unfortunately, I said "were" because, except for Leia's, they recently have all been removed from the shop (a little birdie told me that it's because she's currently preparing a second opus to the kit, but shhh, I didn't say anything !). So, if you don't have them yet, I'm really sorry you'll have to wait for the book release !
I'm also glad to say that this article is a partnership with the French yarn brand Phildar, which kindly sent me the 10 skeins of Phil Coton 3 needed to make these 5 new characters :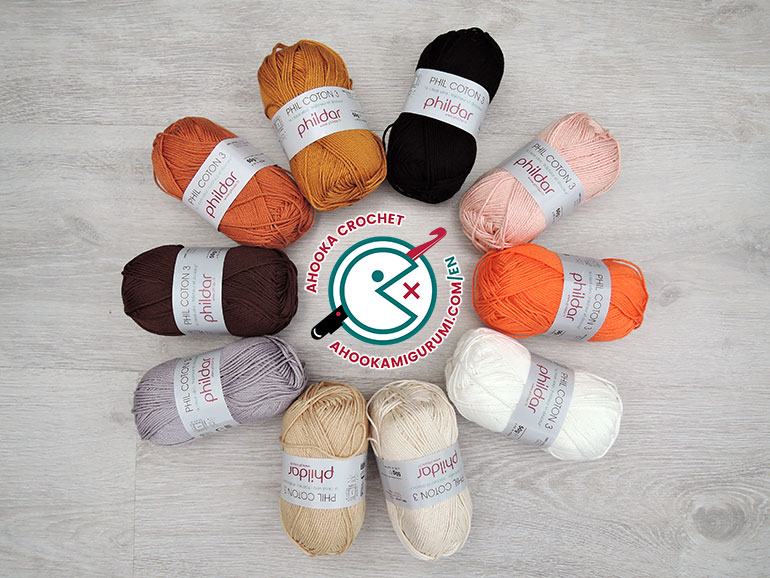 1. Admiral Ackbar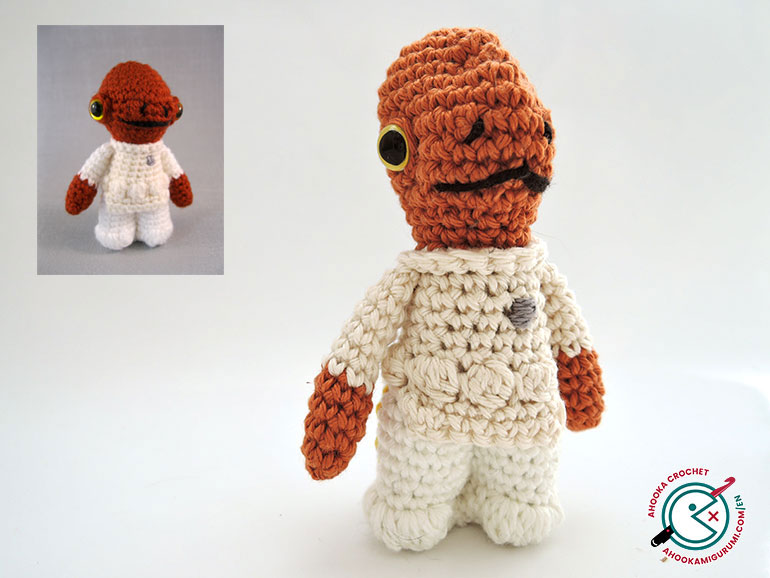 Ackbar is one of my favorite design from Lucy Collin ! His overall shape is pretty realistic ! So, I only added some details, like the shape of the mouth and his head bump. 
► For the mouth, I added a small stitch in the middle in order to make a reversed "v" shape.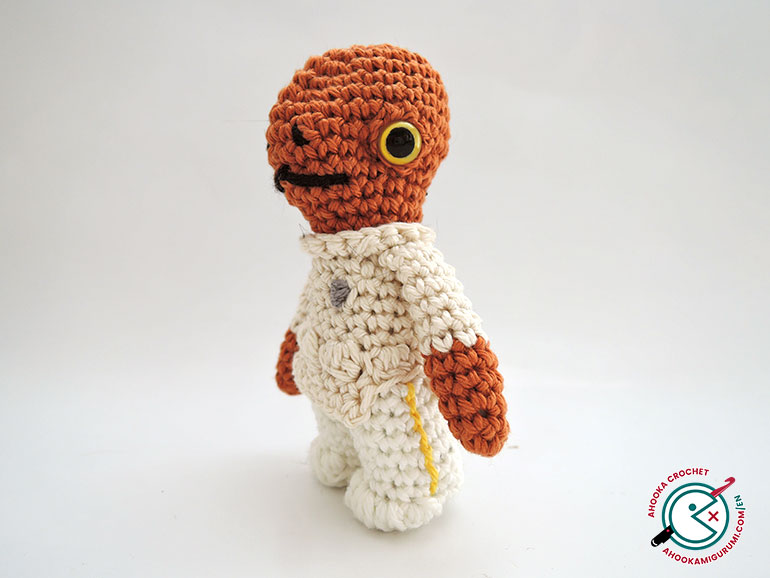 ► As for the head bump, I made it using the same technique as for Oogie boogie's pleats, with a strand of yarn of the same color as the face.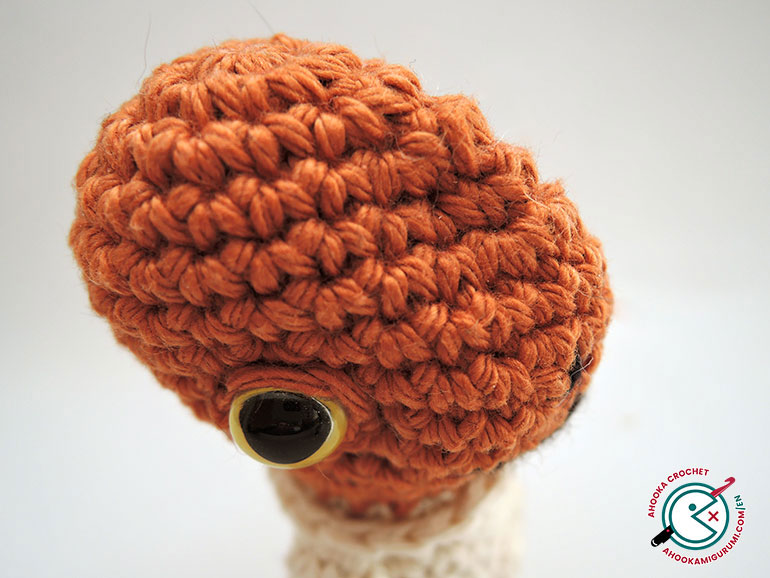 ► I didn't have any yellow eyes in my stash so I painted transparent ones at the back (I'll make a tutorial dedicated to safety eyes soon)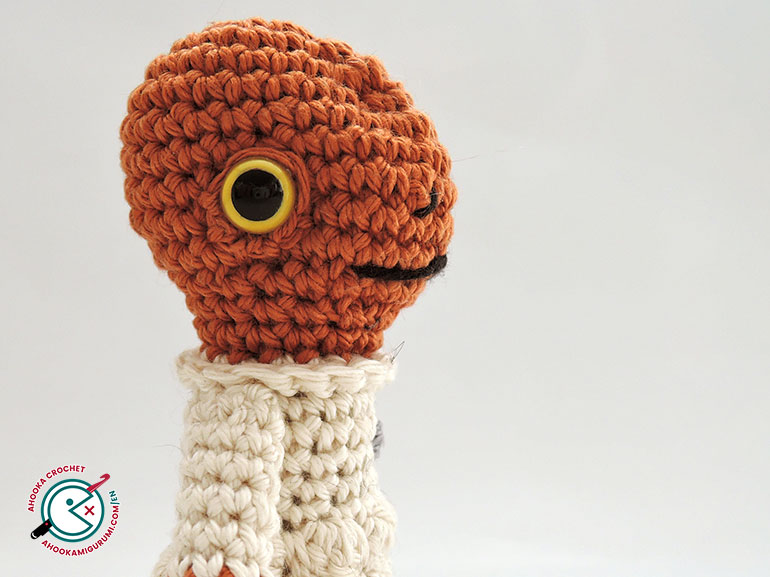 2. X-wing pilot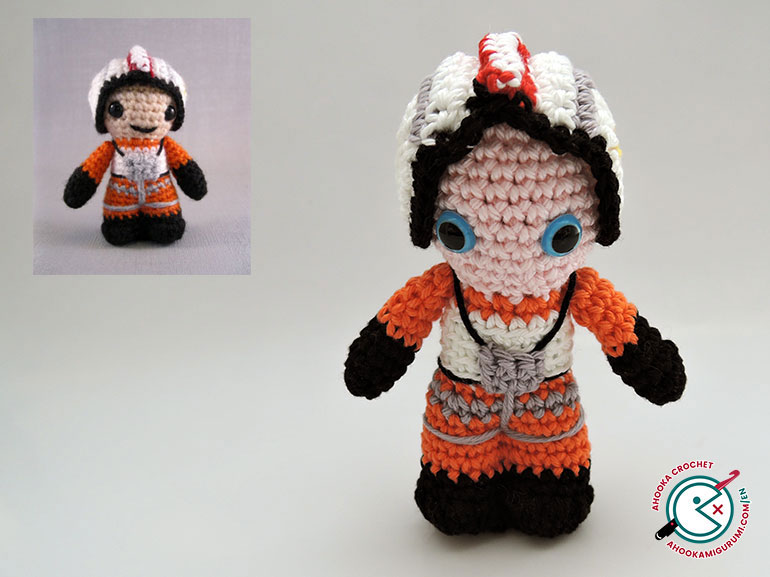 I have no complaints whatsoever about this pattern ! It's awesome to have put so many details in such a small design ! From the suit to the helmet to the case and straps, nothing seems to be missing !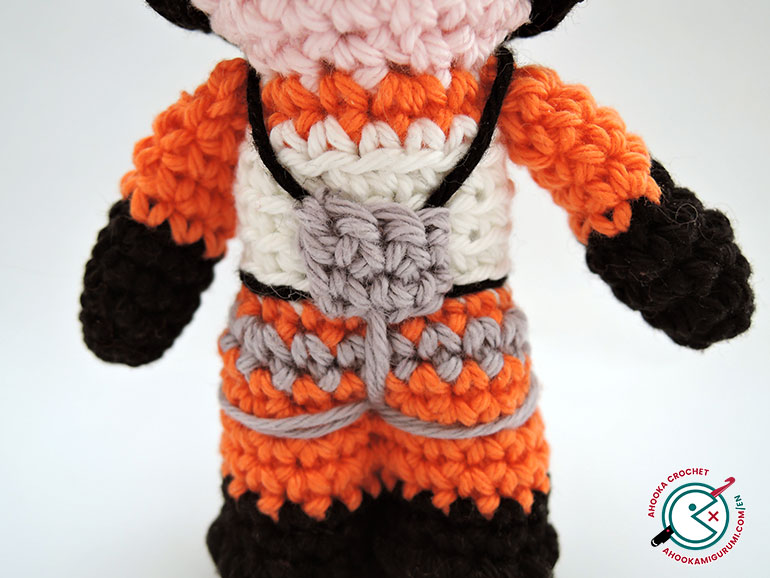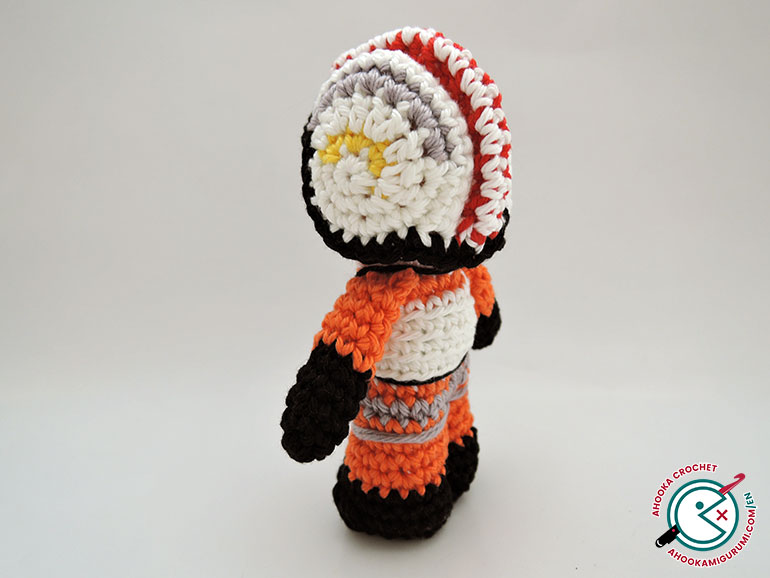 The helmet pattern is a bit difficult to get, but at the end it looks really nice !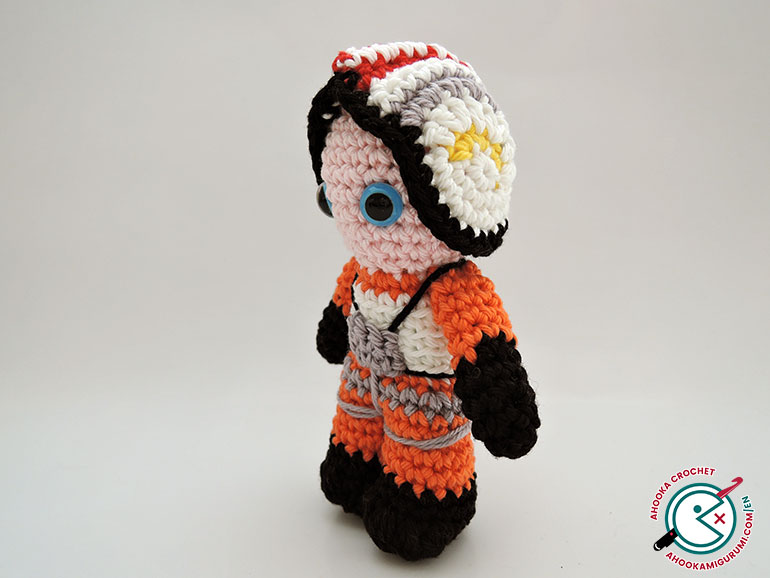 3. Leia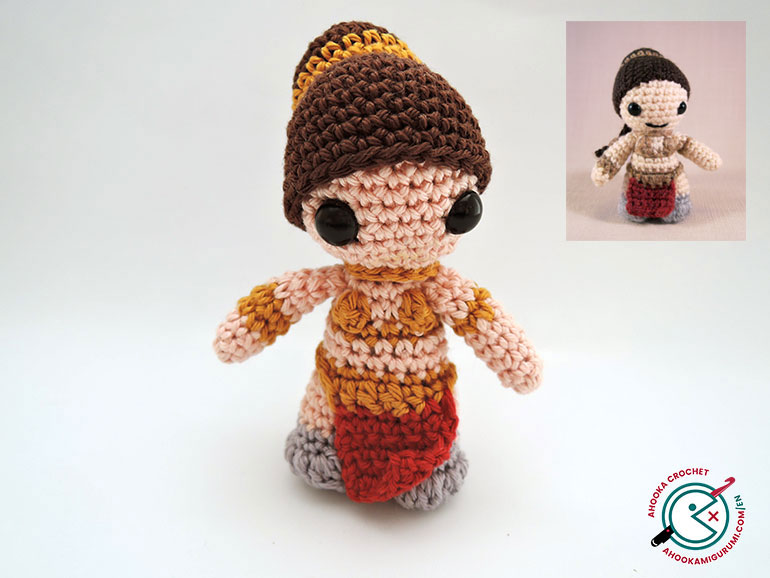 To be honest, I didn't change a thing in Leia's pattern either ! Except for the size of her eyes, but on a second thought, I really think I shouldn't have ! At first, I found it cute…Now it looks a bit creepy to me. 
And, of course, Jabba soon recovered his property ! (you can read more about Jabba in Pimp your pattern n°2)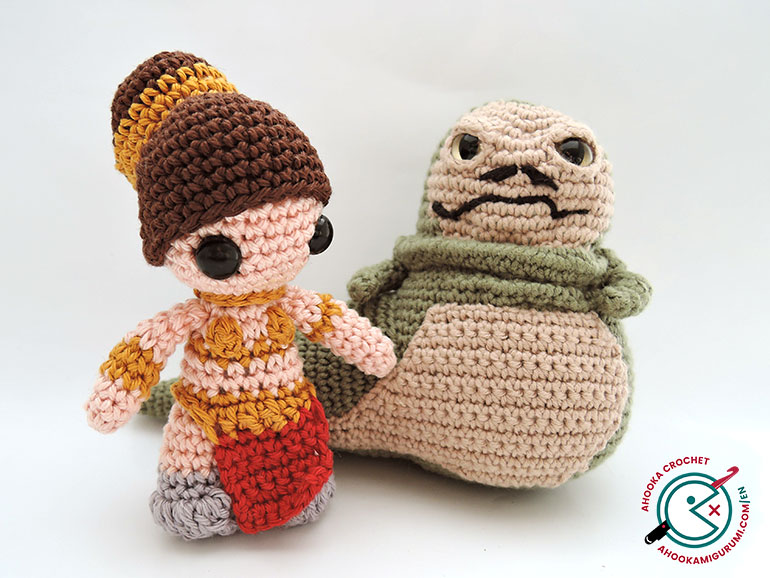 4. Obi Wan Kenobi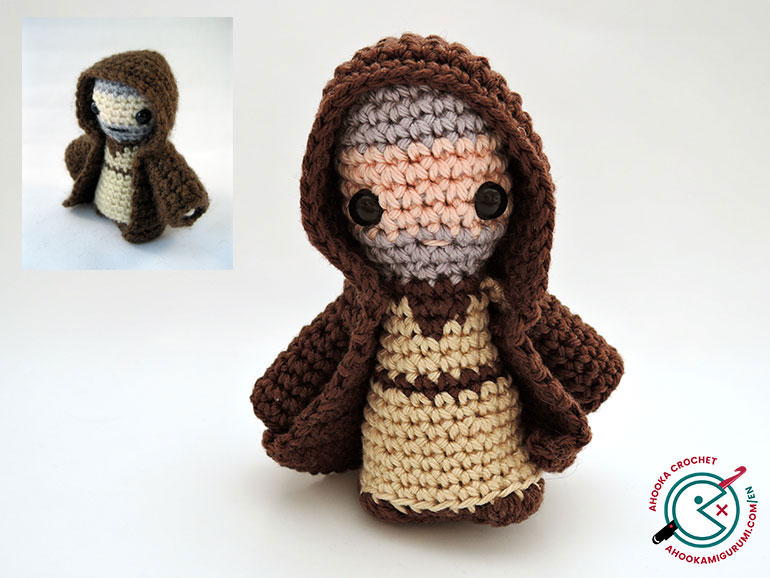 ► Arms : To ensure that the arms don't stay stiff once the vest is on, like Luke's, I decided to shrink them a bit. 
In skin color :
1) 4sc in a MR (4)
2) (sc, inc) x2 (6)
In beige :
3 to 9) 1sc in each stitch around (6)
Don't stuff, pinch both sides together.
10) sc3 through both layers to close.  
► The hood : it turned out to be too tight with the pattern, so I enlarged it a bit  : 
1) ch 30, sc 29 (29) (it will look better if you crochet in the back bump of the chain) 
2 to 9) 1sc in each st (29)
10) dec, sc10, dec, sc, dec, sc10, dec (25)
11) dec, sc8, dec, sc, dec, sc8, dec (21)
► The vest  : I add a row of 28 sc at the end as it turned out too short with 13 rows.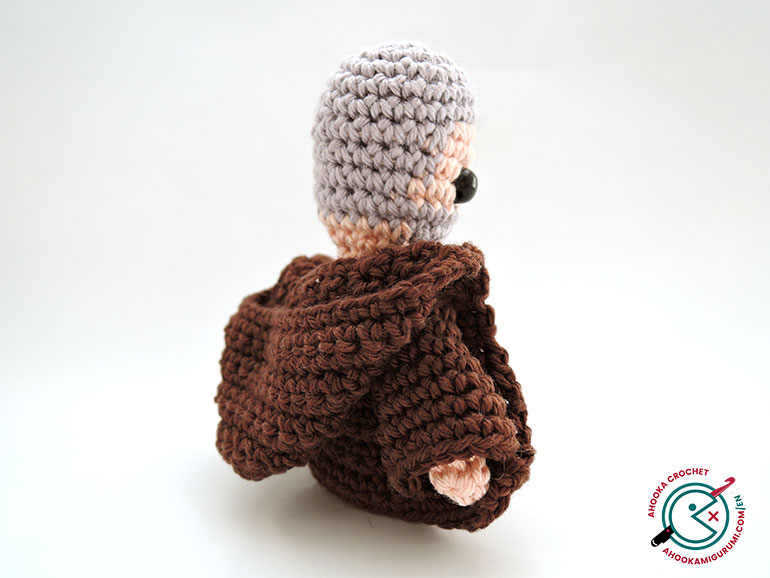 ► The mouth : I chose to embroider the mouth with a strand of skin color yarn instead of black yarn for a more realistic look.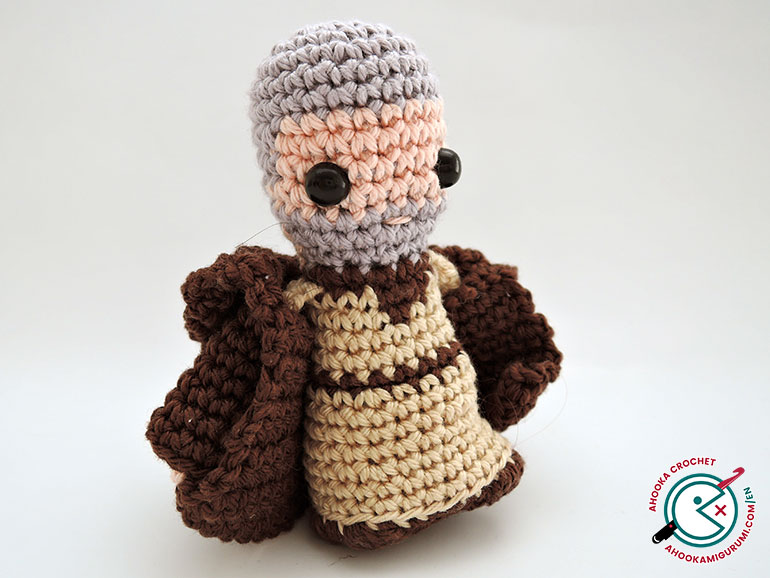 5. Jawa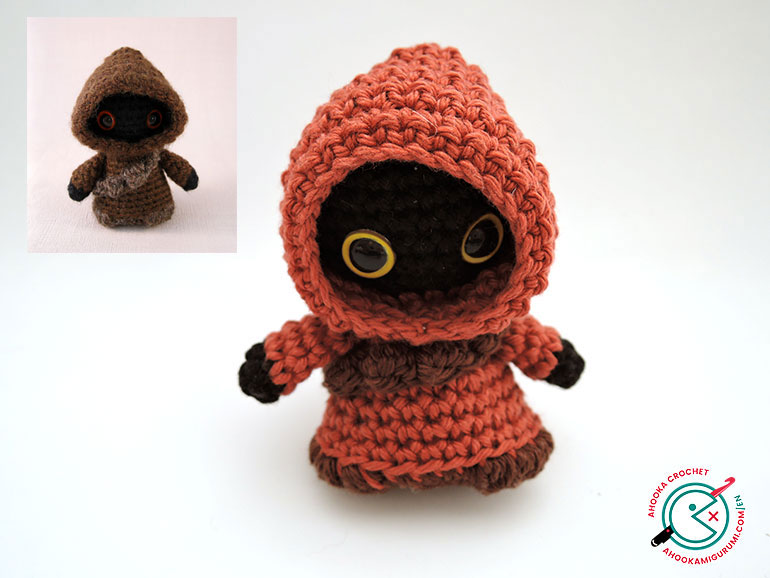 I saved the best for the end. This pattern is THE pattern which got me completely hooked with amigurumis. It made me realize I could do pretty much anything I wanted ! So, it was a real pleasure to make a new one, a few years later. 
► The eyes : as amber eyes aren't that easy to find, I decided to use the same technique as for Ackbar's eyes and make them yellow. 
► The body : if you follow exactly the pattern, the body will somehow turn out to be taller than the picture's. So I skipped 3 rows (14 to 16).
► Arms : As I shortened the body, I had to shorten the arms as well and skip row 5 and row 7. 
► The hood. As Obi Wan's, his hoodie was a bit too small so I enlarged it too : 
1) ch 28, sc 27 (it will look better if you crochet in the back bump of the chain) 
2 to 10) sc in each st (27)
11) dec, sc23, dec (25)
12) dec, sc21, dec (23)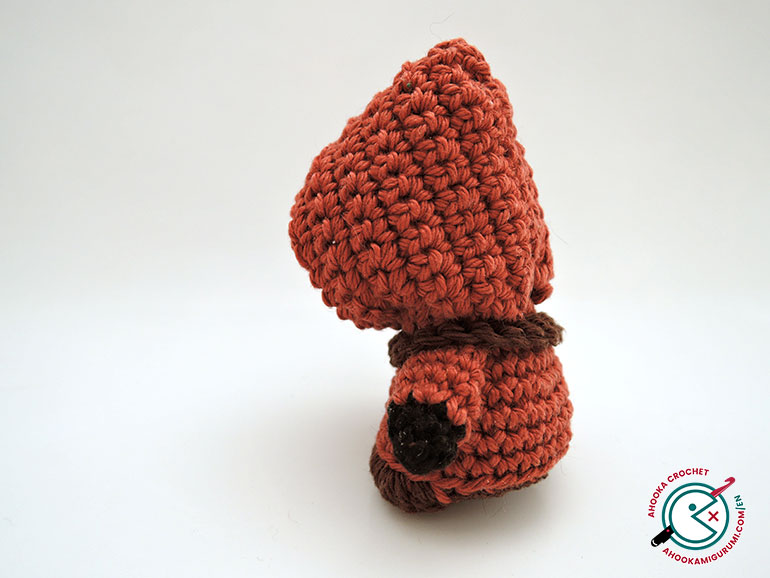 And look what this good Jawa brought !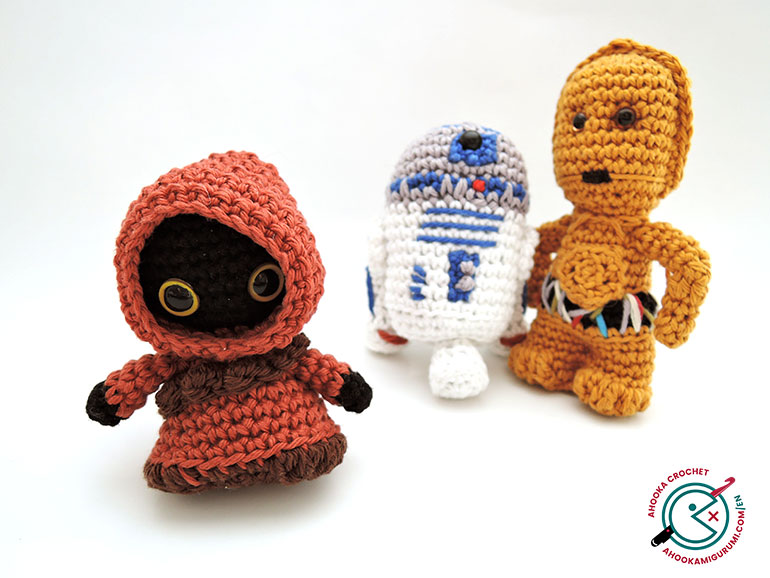 To be continued… :) 
I hope you enjoyed these characters from a galaxy far far away roundup ! As for me, I'm thinking of opening a cantina now ! 
See you soon !