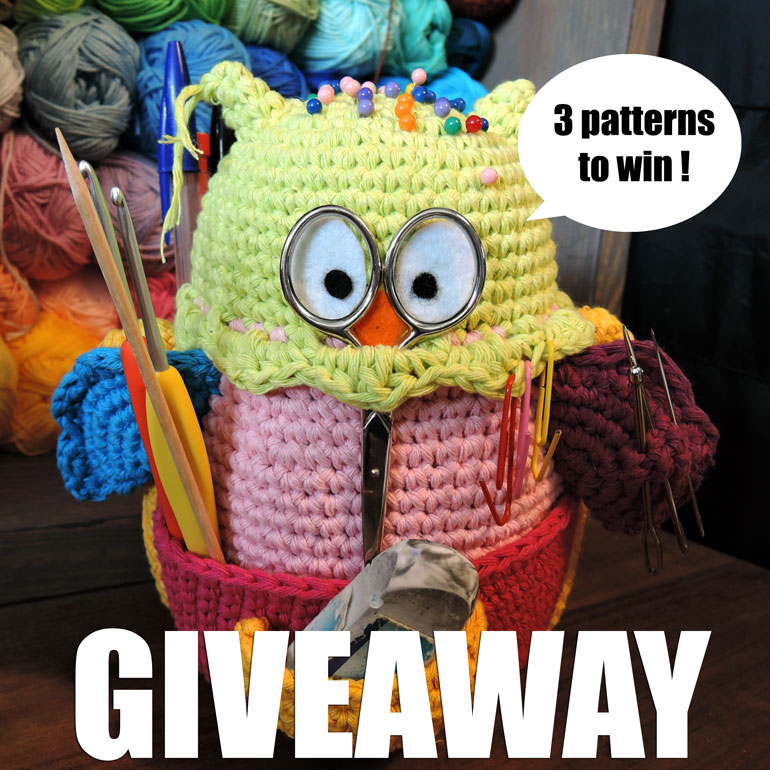 You met Owlivia, the owlganizer on Tuesday and today I'd like to thank you for the warm welcome you gave her by giving you the opportunity to win its pattern !
The giveaway starts now and will end on Monday 11:45 pm CET (5:45 pm EST), there will be 3 winners !
If you already purchased Owlivia's pattern, you can still enter ! If you're a winner, you'll be able to pick any other pattern of my shop, or choose a refund if you find nothing you'd like !
To enter, it's very simple.
Login to Rafflecopter below (with your Facebook account or your e-mail adress, these will only be used to contact you if you win) then, follow the instructions and choose how you'd like to participate :
– by sharing the Facebook publication linked.
– or by subscribing to my newsletter (also works if you're already a subscriber) :
– or by sharing Owlivia's picture on Pinterest
– or by sharing the giveaway on twitter.
– or by doing all 4 for more chances to win !
You can even come back here every day until Monday to share the twitter post for even more chances to win !
Please indicate correct information as the winners' one will be verified.
Good luck !!