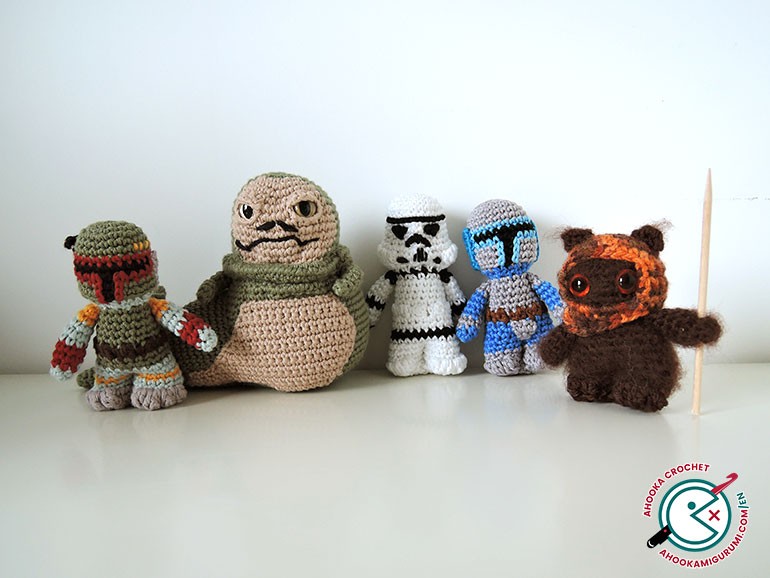 After Luke, Leia, Han, Chewie and Yoda, let's pimp Boba Fett, Jabba the Hutt, a stormtrooper and Wicket the ewok !
But wait? What is "Pimp your patterns"?
Sometimes I write patterns, sometimes I follow patterns. But, you know how it goes, we, creative people, always have to add a little something ! That's what "Pimp your patterns" is : my "little somethings". So, in this category, I'll be posting the patterns I followed, and all the changes I made to them so you can make them too if you'd like. 
► Also read : ▲Pimp your pattern▲ Star Wars special (part 1) !
Pattern : Star Wars crochet kit, par Lucy Collin. (If you wish to know what I thought about the kit, see part 1).
Yarn used : – Phildar Phil coton 3 (Stormtrooper, Jango Fett) / Phildar impact 3.5 (Wicket) / Drops Safran (Boba Fett, Jabba)
1. Jabba The Hutt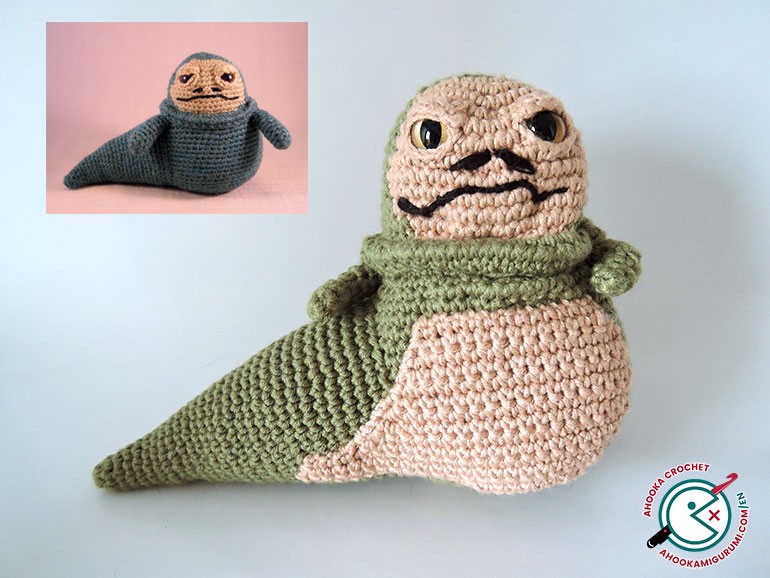 • First big change : the belly patch. 
Chain 14 and work in rows (ch1, turn at the end of each row) : 
R1 : sc in 2nd ch from hook and in the 12 remaining chains (13)
R2 : inc, sc11, inc (15)
R3 : sc in each st (15)
R4 : inc, sc13, inc (17)
R5 : sc in each st (17)
R6 : sc16, inc (18)
R7 : inc, sc17 (19)
R8 : inc, sc16, inc (19)
R9 : sc in each st (19)
R10 : dec, 16sc, dec, ch4 (23)
R11 : sc in 2nd ch from hook, and in the 21 remaining stitches (22)
R12 : dec, sc19, inc (22)
R13 : dec, sc18, dec (20)
R14 : dec, sc6,dec (8)
Then, sc around (with 3sc in each corners).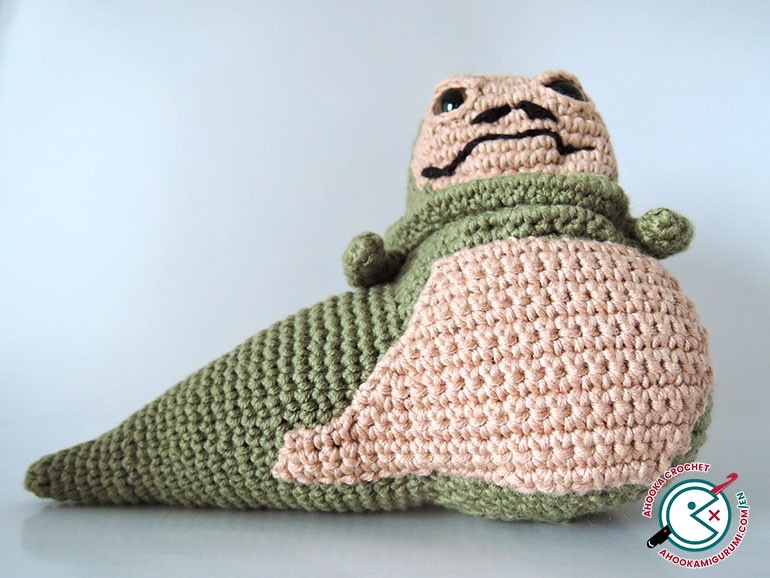 • Then, the arms. I made them thinner and curving around the belly : 
R1 : sc6 in a MR (6)
R2-4 : sc in each st (6)
R5 : hdc, 2 inc, 2 dec (6) – note : this row uses 1 stitch from the next row.
R6 : slst, 2hdc, 3slst (6)
R7-9 : sc in each st (6)
R10a (right arm) : sc, 4hdc, slst (6)
R10b (left arm) : slst, 4hdc, sc (6)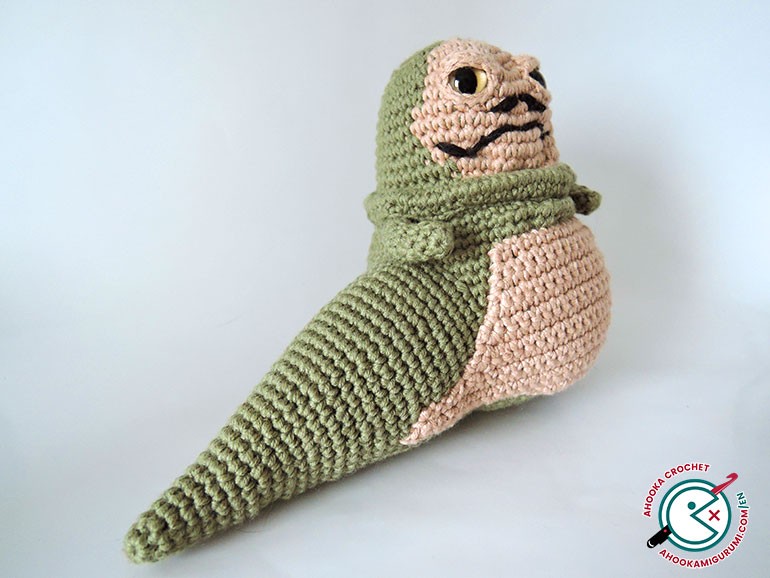 • Then, small details.
I was happy to find those snake (or cat?) eyes in my stash ! I have to admit when I bought them, I wasn't expecting to use them on a big fat slug :D 
I also added some folds using the same technique as for Oogie Boogie.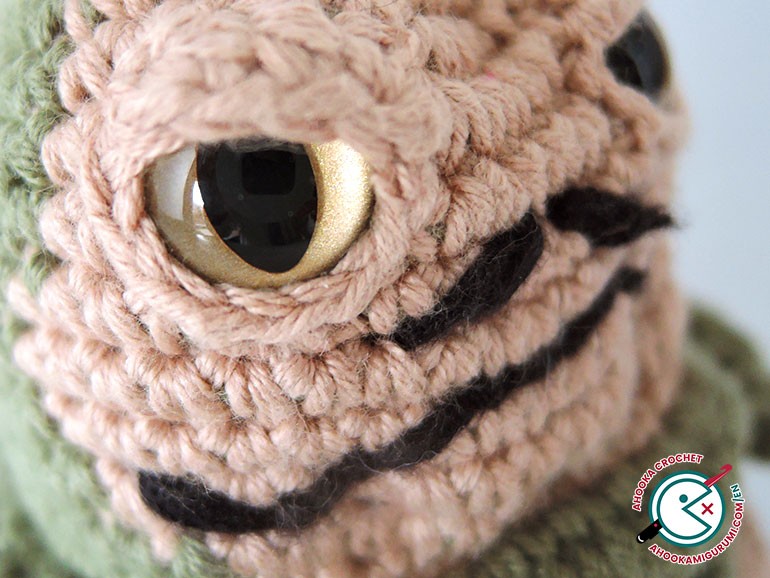 2. Wicket the ewok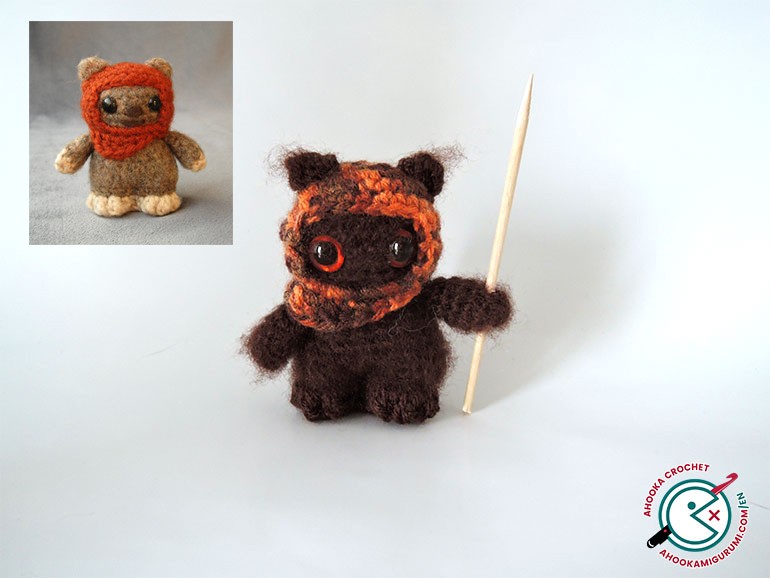 • Seriously, what would you want to change to this cutie? I only chose not to embroider the mouth and nose (as I don't like them in the movie either !) 
3. Stormtrooper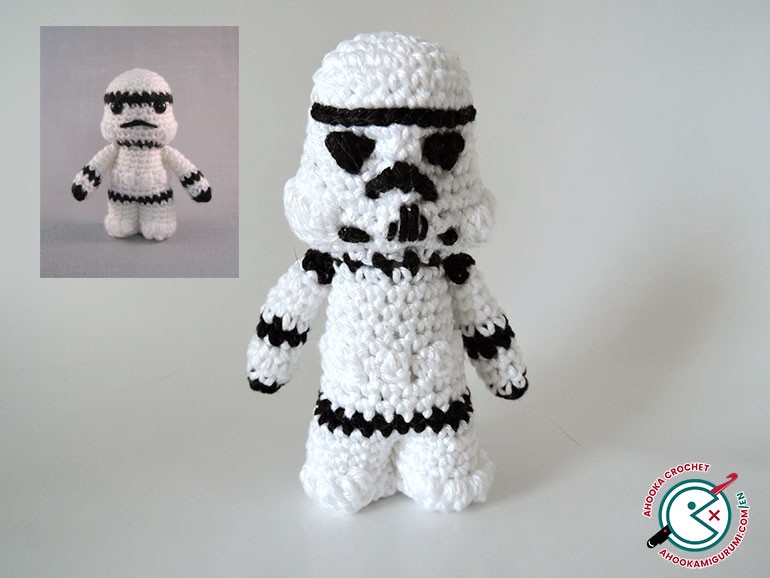 I have to say, the stormtrooper is one of my least favorite character of the book. And, I also have to admit that even with the changes I tried to make, I'm still not really happy with the result.
• For the head, I did make 12 black surface slst between row 11 and 12 instead of changing colors in row 7, so that the black line would be thinner. I also changed Rnd 12 like so : 2dcbobx10, sc9, 2dcbobx10, sc1, so that the bump made by the 2dcbobs would continue at the back.  
• For the arms, I made the black row in row 5 instead of 4 and I also made Row 10 in black. 
• For the face details, I tried to embroider them but…Not my greatest success :D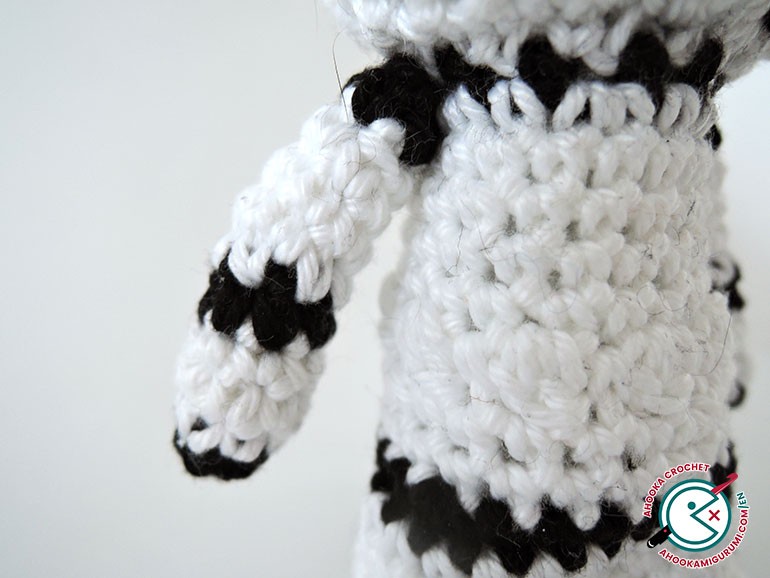 4. Bobba Fett… And Jango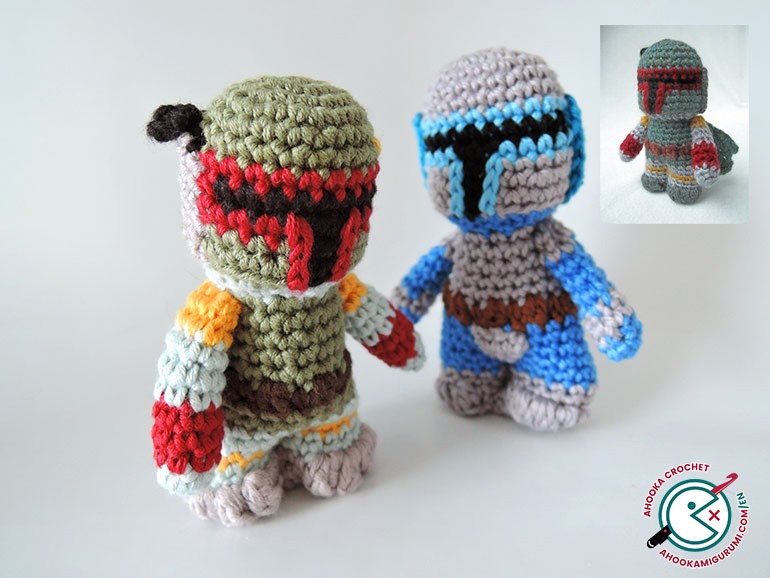 This was my favorite pattern from the book for sure ! I didn't change  a thing, I love it ! 
I only replaced the regular color changes by invisible color changes. Then, I embroidered those small yellow lines and that's it !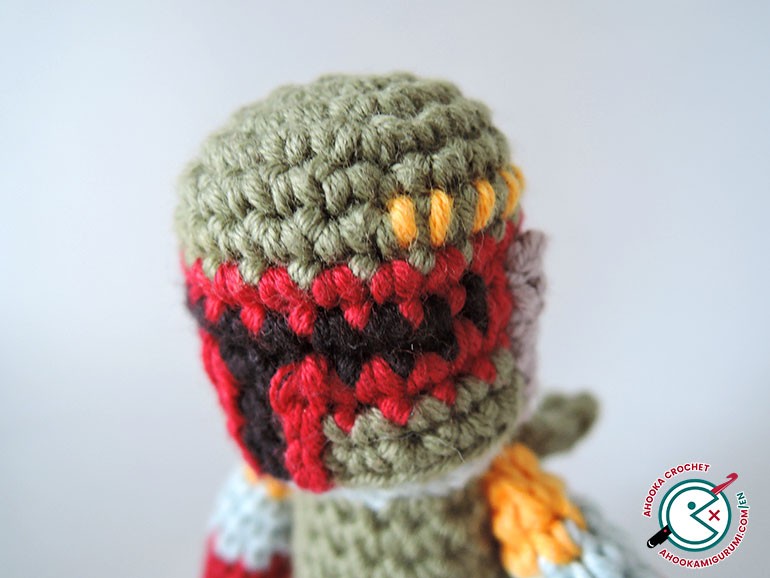 So… As I had nothing to say about Boba, I decided to use the pattern to make his "dad" : Jango ! 
Head and cheast : replace green with gray, red with light blue, sage-green with blue. Than, below the belt, make row 21 to 25 in blue and the others in gray. For the arms : row 1 and 2 in blue, 3 and 4 in gray, 6 to 8 in blue and 9-10 in gray.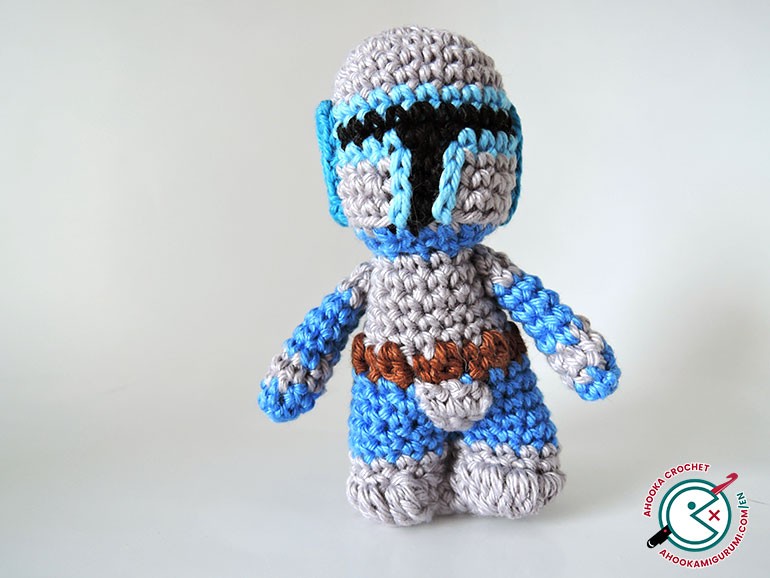 Then, add a small crotch patch  :
Rg1 : 2ml, sc in 2nd ch from hook, 1ml, turn (1)
Rg2 : inc,1ml , turn(2)
Rg3: 2 inc (4)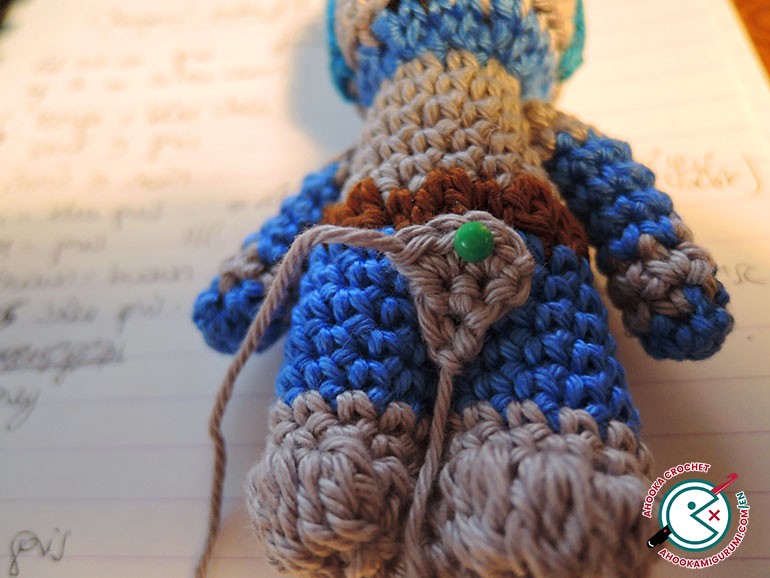 And that's it !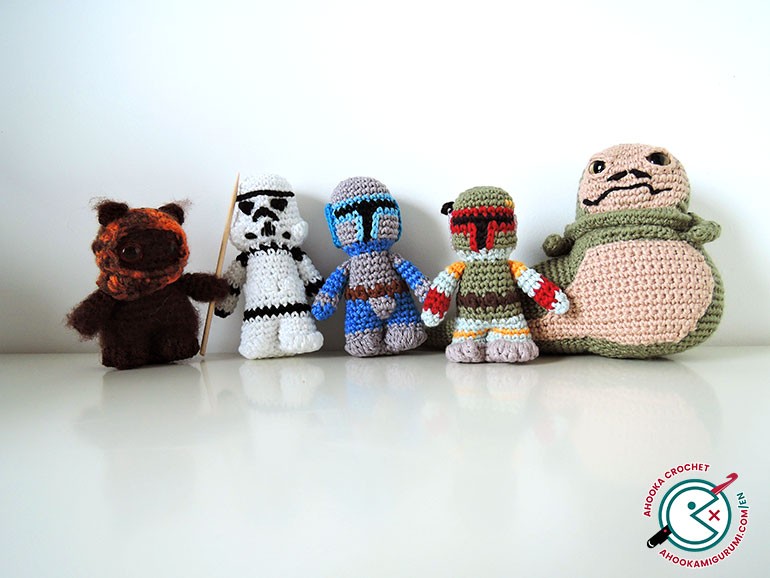 Stay tuned for the next *Pimp your patterns* with Slave Leia, a X-wing pilot, admiral Acbkar, Obi Wan Kenobi and a Jawa, still from Lucyravenscar (or Lucy Collin) but from her Etsy shop this time :) 
See you soon !