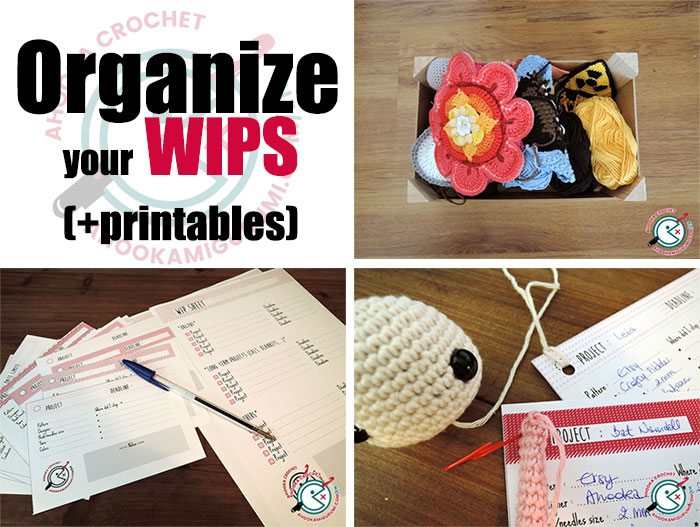 Admit it. I'm not the only one with hidden bags and drawers full of WIPS (work in progress) to be finished…, maybe…, one day…
At first, I was pretty well dealing with my to-do list. I had my current WIP, and sometimes I had a long term project beside it. One project followed another and everything was quiet and peaceful. 
Then there were the first CALs (crochet along), the first discontinued yarn, and also the project that HAD to be done, right away, and you know I could go on. And here comes the big bag of shame, hidden somewhere behind the couch full of unfinished projects, that you're kind of frightened to approach, fearing that it might swallow you up in a big yarn wave as soon as you open it. 
But today is the day. Let's screw up our courage all together, and FACE IT ! :D 
Step 1 : The gathering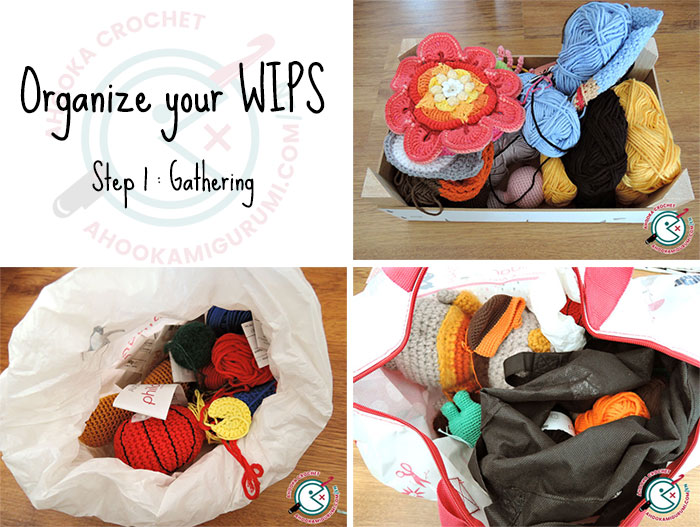 I talked about ONE bag of shame. But it's more than likely that you have more than one, scattered in the whole house. So, the first step is to gather them all. Open all the drawers, boxes, bags, and put everything in front of you. Don't be scared, I know they look at you with evil eyes, but you can do it, I have faith in you. 
Step 2 : the sorting
Now that they are all there, you'll probably realize that there are way too many of them. You have so many other beautiful projects to achieve, so now is the time to be efficient. Let's sort out the mess !
1/ Projects to be frogged and/or trashed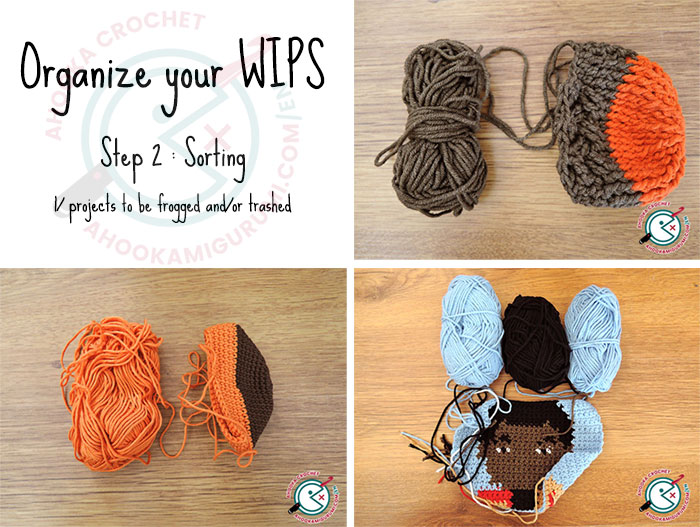 The very first thing we're going to do is to analyse those projects, one by one. Do you HAVE to finish it? Do you WANT to finish it? Do you still have the pattern? Do you still have yarn to complete it? Do you remember what you were going for? If the answers are no, come on, get that yarn back in your stash, and what can't be frogged in the trash !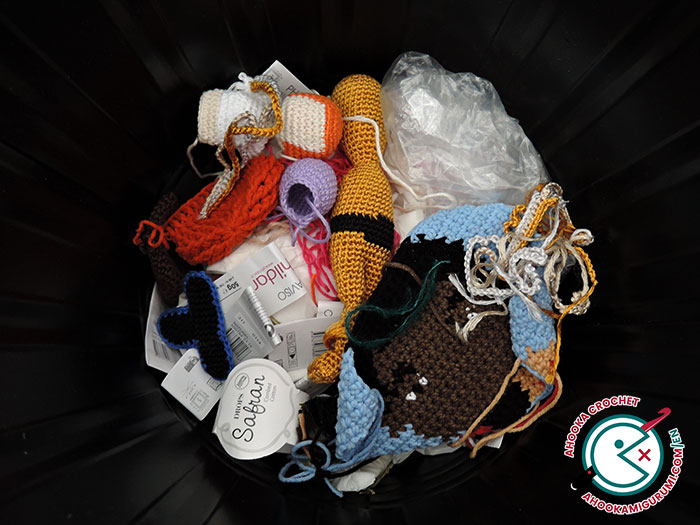 2/ Quick to finish projects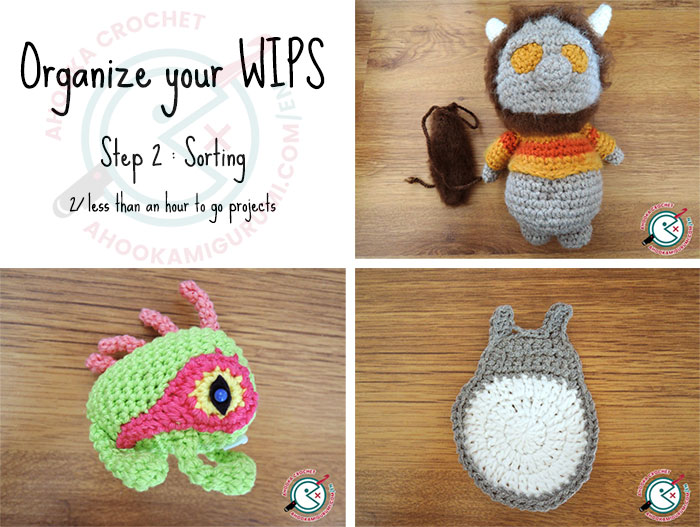 Sometimes, you'll also realize that some projects were almost done when you abandoned them. If you can complete them in less than an hour, go on and put them at the very top of your to-do list. You'll be able to tick those boxes really quickly and here comes the great accomplishment feeling !
3/ Long term projects (CALS, afghans,…)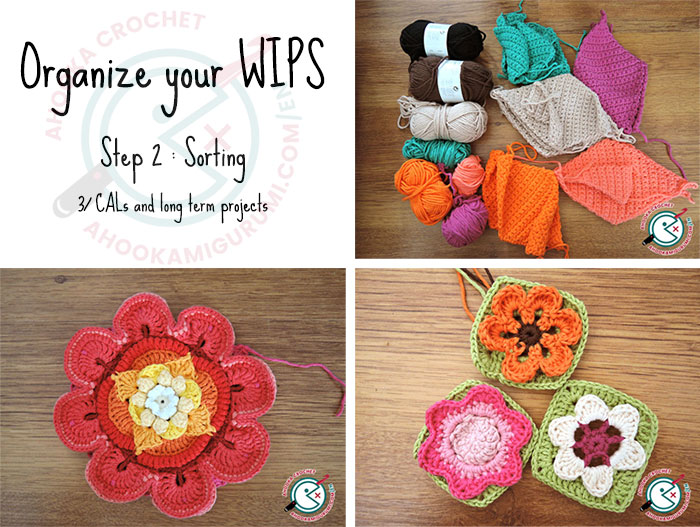 Those are the only one who have a reason to be WIPS. You will often spend month on them, so it's perfectly normal to put them on the side from time to time to work on smaller projects. However, they should receive the same treatments as others : if you haven't made a single row in a whole year : frog it or trash it, you won't get back to it anyway. 
4/ Other projects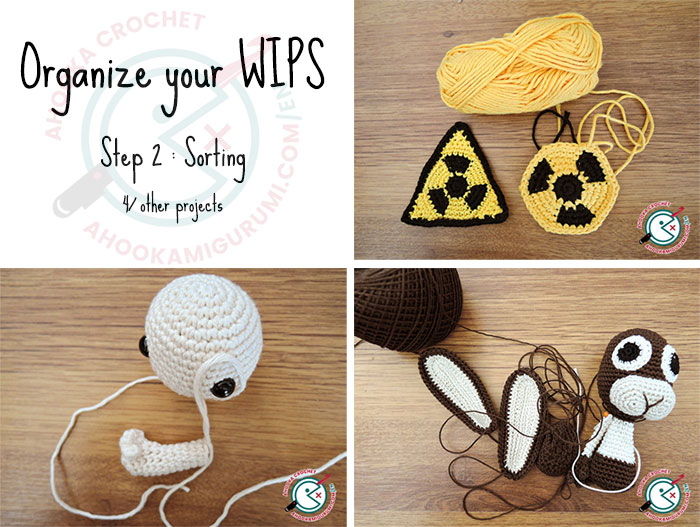 These are my worst enemies. My goal is to get rid of them, I should only have one of those at a time on my crochet hook (one can dream, right?)
Etape 3 : The filing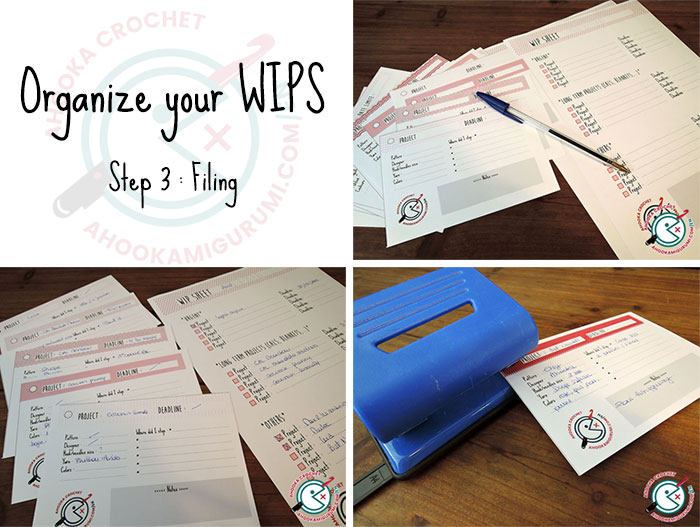 Now that you have put so much effort in sorting out all these projects and have narrowed them down to a minimum, it's time to file them. How many times have you lost the location of a pattern you were working on? Or didn't remember the hook you were using? Or the row you were at? Here is a little help for that.
I made some cards ready to be filled with the name of the project, its deadline, the pattern, hook and yarn used, as well as a section to write down your progression and your personal notes.
Once those cards are filled in for each projects you still have, fill out the second one which will sum up all your projects all in one place. Keep that sheet on your desk, and never lose track of your projects anymore.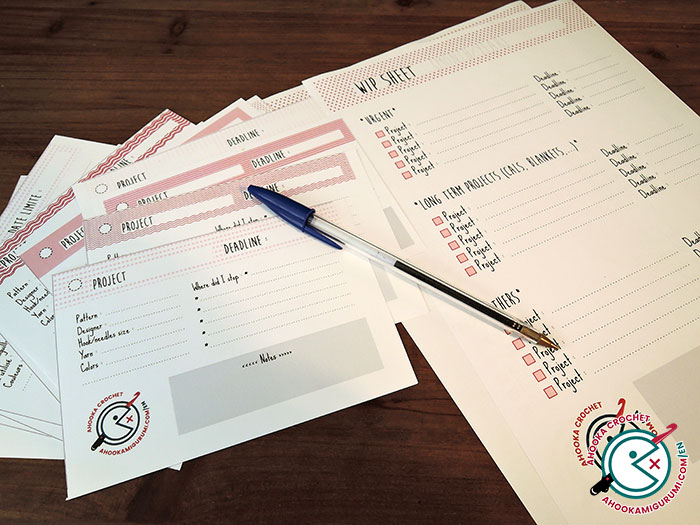 You can download  both those printables for free here :
Step 4: The sorting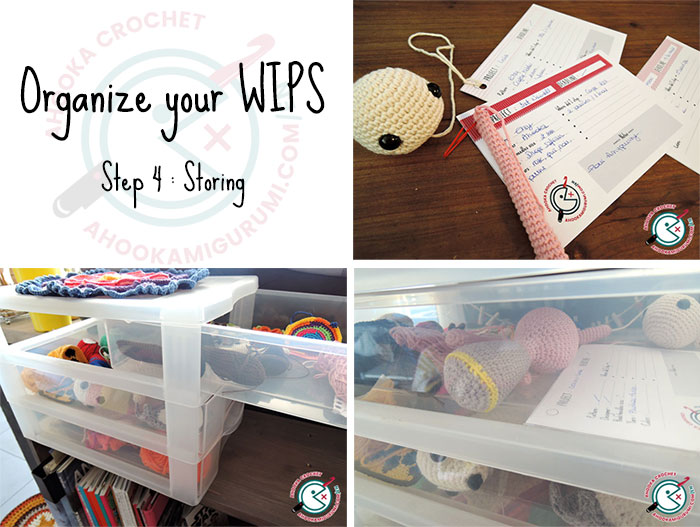 Now you just need to find ONE (and ONLY) place to store them, along with their cards, and that's it ! You can go back to crochet with your mind at peace (well, don't forget to complete them at one point too :p)
(PS: Feel free to share this article with your crocheters and knitters friends !) 
See you soon !