Today, let me introduce you to Chomper and Banana Minion !
I. Chomper
Designer :  Aradiya Toys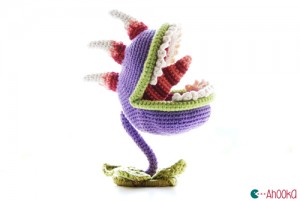 The first thing I loved about this pattern was its originality, and I wasn't disappointed at all by the result once finished.
My only problems were with the teeth, which ended with a different scale from the original design.
I also had some trouble understanding the instructions for the base (that I finally made my own way)
– I enlarged its dorsal spikes and changed the colors in order to fit more to the new Plants vs Zombies : Garden Warfare design
– I made the inside of its mouth in a dark red instead of purple
– I didn't make the ruff out of leaves at all, because I thought it was too bulky.
II.  Minion Lovey Blanket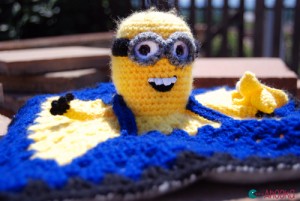 Designer : Pattern by Knotty Hooker Designs
Banana Pattern by Esbellota
I first discovered this minion on another French blog, but its owner couldn't give me the pattern as it was a crochet-along. Since then, my cousin has had the great idea to get pregnant :p That gave me the perfect excuse to go back and find it ! Which I did on ravelry! Yay !
Be mindful that the banana is not a part of the pattern, I did link the one I used but you'll have to shrink it otherwise it won't fit your minion.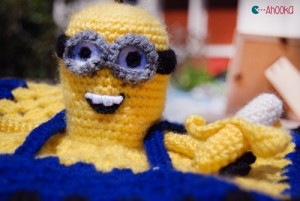 My changes :
– The mouth : it was a simple smile on the original pattern, I preferred to embroider this fool smile :p
– The "blanket" : I did line it with a piece of fleece so it would be softer.