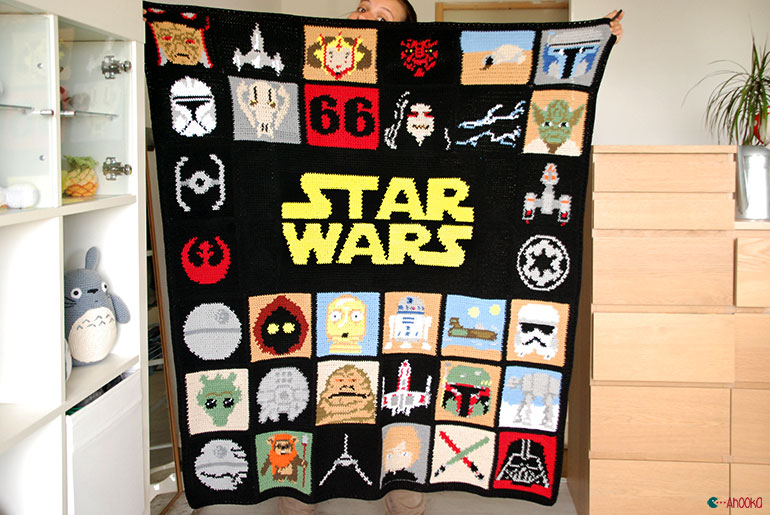 TA DAAAAAAAAAAAAAAAAAAA !! May the 4th ! … Star Wars day !! **
I usually tend to hide a bit of my geekness, trying to please both of my geeky and non-geeky readers… Today…I have to apologize to the non-geeky ones but they are going to be flooded by geekness in this article :D You are now warned ^^ 
Newsletters subscribers may have guessed it when I announced that I would publish my article on Monday rather then Tuesay this week… I couldn't miss this date to show you my fan-girl blanket :D
** (May the 4th = may the force…Be with you)
But let me tell you its story from the beginning : 
At the end of February, I ran into this crochet blanket on Ravelry :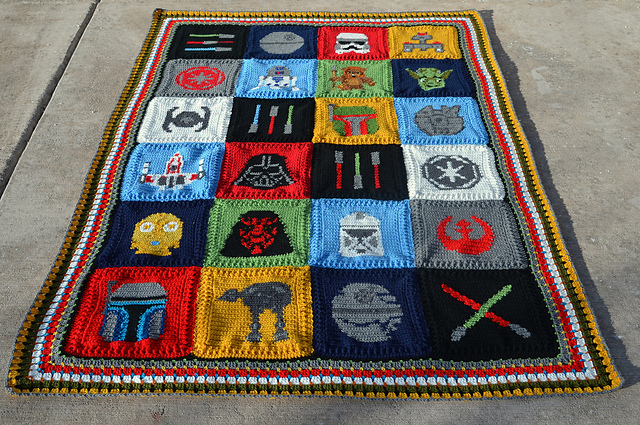 My heart went BOOM straight away…But… Maybe do you know me well enough now to know that I don't have any patience…at all ! I admire those girls who crochet those giantic granny squares bedspreads, but I can't !! It's genetically impossible for me ! 
What motivated me to make this blanket was that each squares where different (and that it was a f****** Star wars blanket !) and if I made a single square each evening, in front of a serie, it would be done in no time…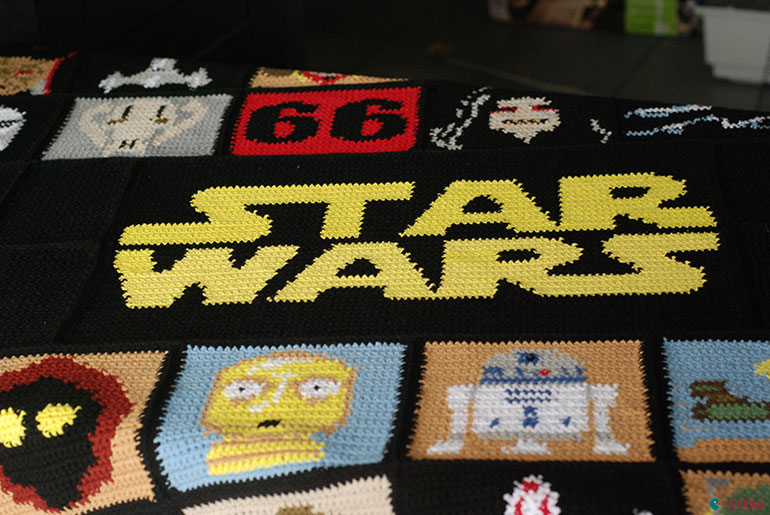 I started to reproduce the squares on Photoshop, so that I could try the colors that I would use on, and choose the yarn I would use too. 
I finally chose a French brand of yarn : Phildar Cabotine as I like that it is a mix of acrylic and cotton.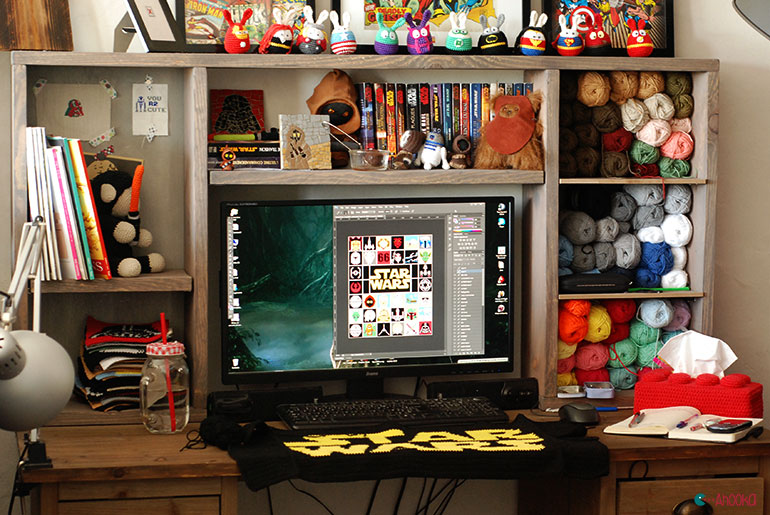 Then, I changed some squares, moved them, and created (a lot) of new squares…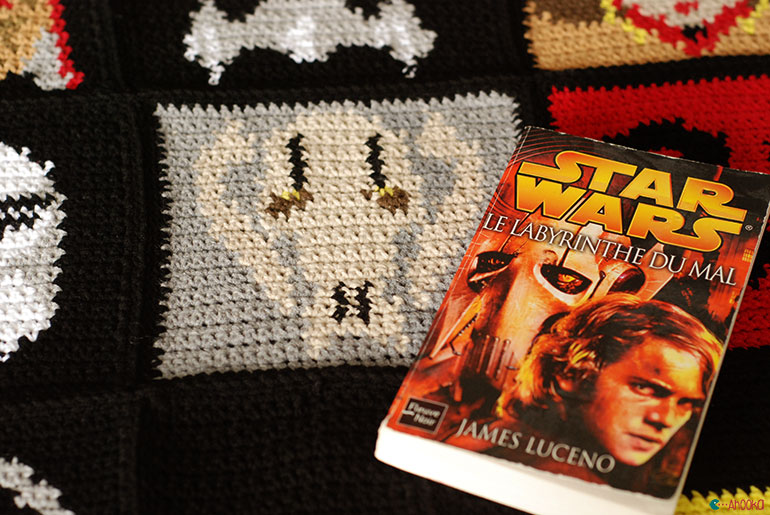 What was meant to be a teeny tiny baby blanket of 4*6 squares ended up to be a 6*7 squares, 17 cm each (6.7 inches) for a total of approximately 100*120cm (40*47 inches) 
What should have been "done in no time", took 2 months, or 150 hours of intensive crocheting ! (2h30 to make a square and 30 minutes to wave in the ends !)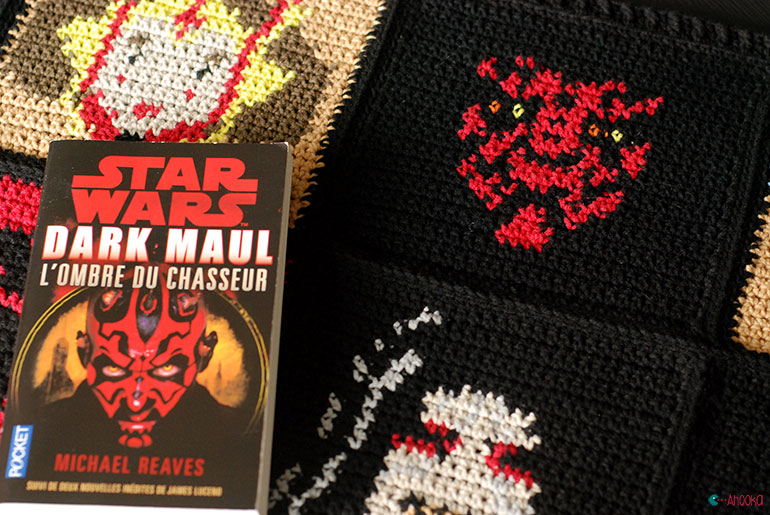 I also was very optimistic on the amount of yarn required, and I had to go back to the store twice (including a very urgent one, 4 days ago, to  purchase the 3 missing black skeins to be able to assemble the blanket !). I used a total of 34 skeins of 50gr.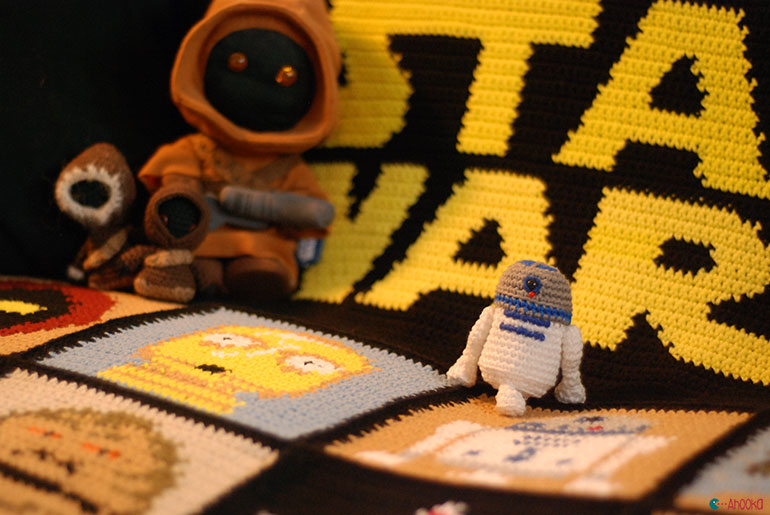 But enough talking, here are the 6 episodes of the saga summarized in one blanket :)
Disclaimer : Be warned, you should be at least a bit of a Star Wars fan to understand following lines, if you're not, please just look at the pictures :p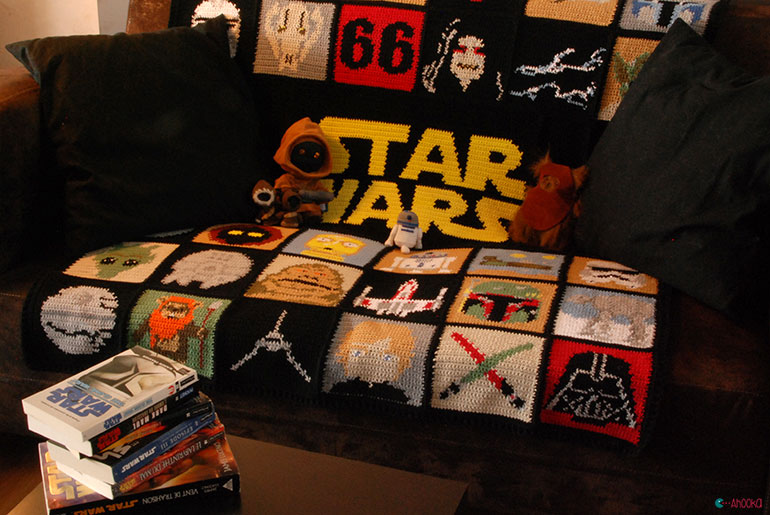 I tryed to keep the squares in a chronological order and to recount some of the most iconic scenes. 
– The order 66 followed by the fight between Dark sidious and Yoda :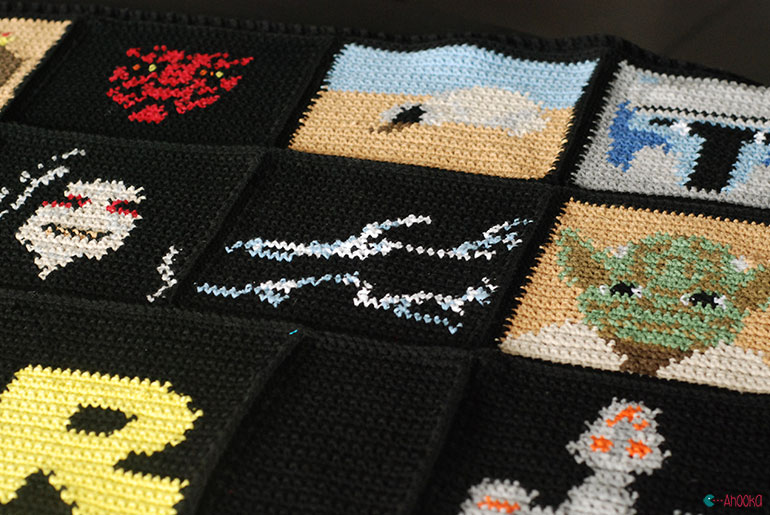 – The purchase of the 2 droids to the jawas and the famous "these aren't the droids you're looking for"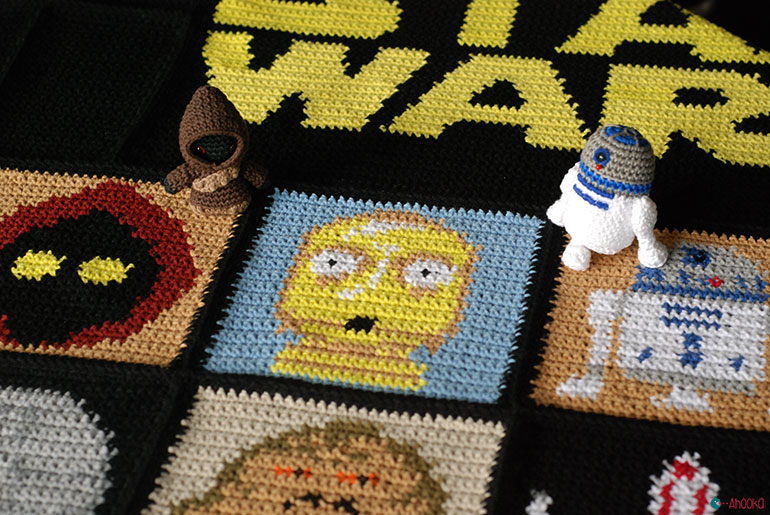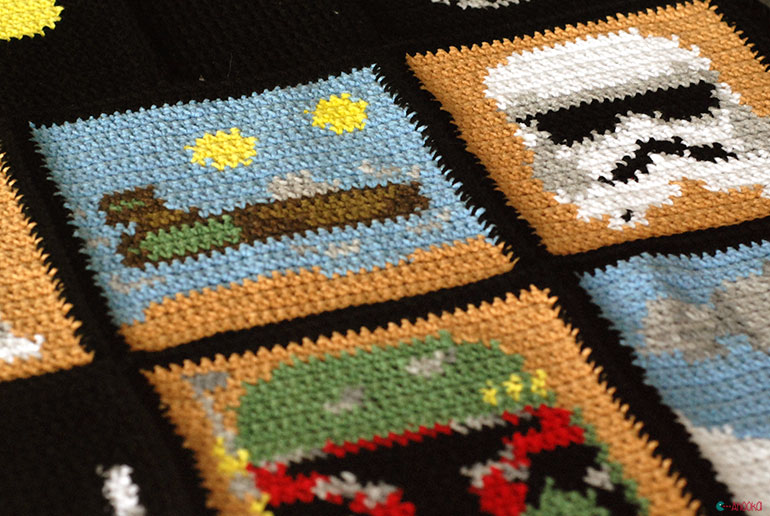 – The precious help of those tiny Ewok plushes during the Endor battle :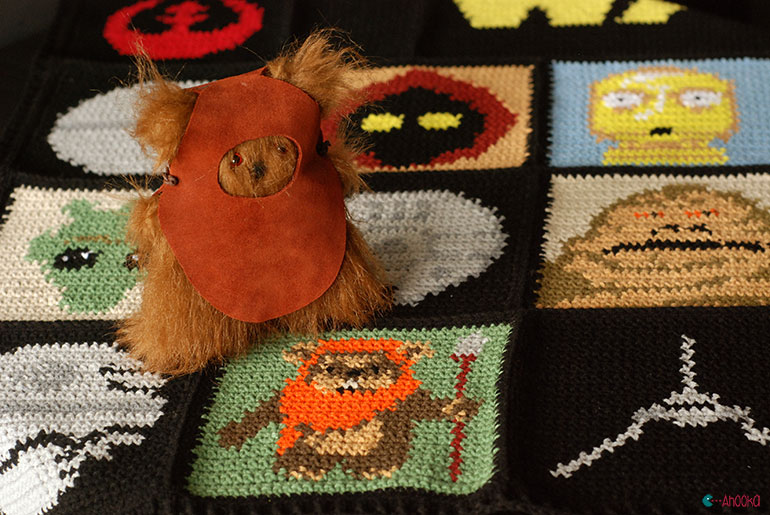 – And of course, the confrontation between Luke Skywalker and his beloved daddy :)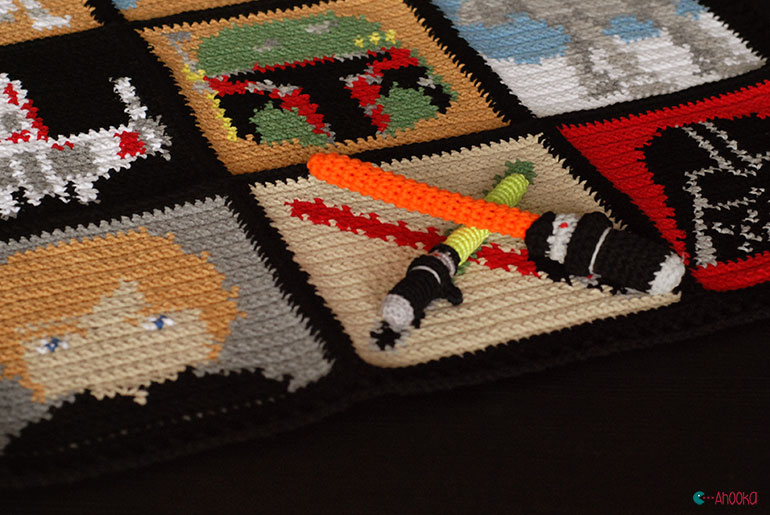 Oh, of course, some are still missing ! Obi-Wan, count Dooku, Leia, Han Sola, Chewie…?! I had to make choices, but I'm thinking of making some cushions now :p 
By the way, as I told you earlier, I ended up not using that much of the existing squares : actually, I only used 7 of them as they were, modified 9 of them and created 18… Which means I will probably  publish the charts for those 18 squares I've made soon :) Stay tuned ! 
Edit 05.21 : The Star Wars charts are now online here !
Now, I have a book to finish ;)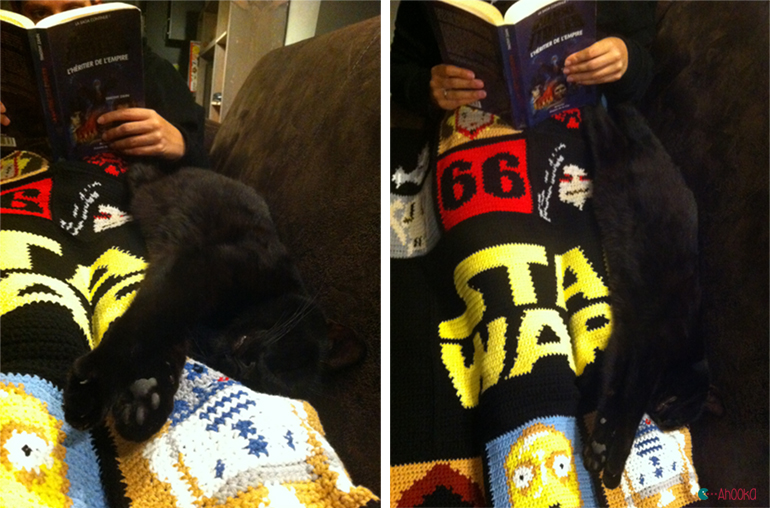 See you soon !