Let's go on with video game related amigurumis for this new monthly article of "Patterns from other website" issue.
This month, I've tested :
– a Super Mario pattern
– a Minecraft Creeper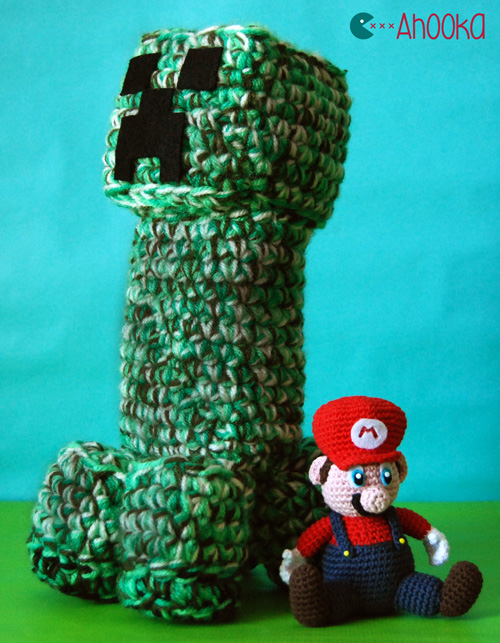 From now on, I've decided to go with a more detailed review for all the patterns I try. Therefore I'll make a list of pros and cons, and of the changes I make, for each one of them. Let's get started !
1. Mario
Designer : Wolfdreamer
Price : Free 
Pros :
–  First, it's a MARIO pattern, that's enough to be a big PRO !
– There are plenty of details which all contribute to make this amigurumi very realistic (The sideburns are just perfect ! The detailing of the gloves is awesome) 
Cons :
– I think there is way too many separate pieces to assemble one with another. Feet, legs, the body and the head are all separate parts. At least the legs and the body could have been make in one and only piece (even with the head). That would make the amigurumi much more stable and leave us with a lot less sewing to do.
– The explanations for the mustache and the hair won't bring the expected result that we see on the pictures. Maybe was it because of the yarn I used? Nevertheless, looking on Ravelry, I've found other people with the same problem who had to figure out a way to make those by themselves.
– There is also something odd with the hat explanations. 
My changes :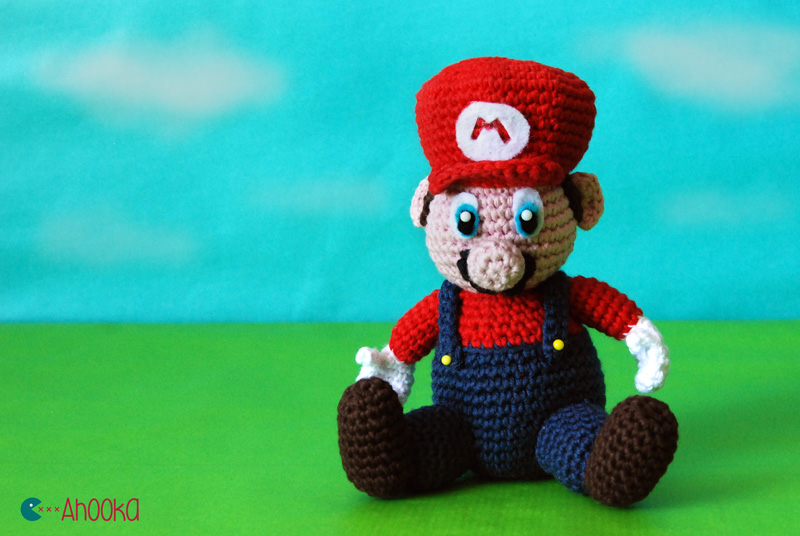 – Yarn and hook : The yarn used in the original pattern is WW with a G hook. I've used much thinner yarn (Drops Safran) with a 2mm hook (B) so my Mario is approximately 2 times smaller than the original one.
– Hands : Because I picked thinner yarn, I wasn't able to make the little detailing of the gloves. Indeed, inserting my hook in the back loop of the stitches that were inside the glove was mission impossible for my eyes !  
– Mustache and hair : As mentioned before, when I used the pattern to make those, they looked nothing like the pictures. I had to find a backup solution but I realise my mustache is way to small !! 
– Body : I've shorten the body by removing rows 19 to 21 because I thought it was a little bit too long.
– Suspenders : For an unknown reason, the designer chose to make 28 rows of 2 single crochet instead of 29 chain and a row of 28 single crochet. I'd rather make it simple so I picked the easy way out. I also shorten them a little bit, making only 20 stitches, as I had previously shorten the body.  
– The hat : I didn't understand the point of fastening of the yarn and reattach it 6 stitches further. So I've skipped that part and stopped my row 6 stitches before instead. I've also shortened the brim by removing row 4 to 6 as it was strangely growing much bigger than what I saw on the pictures. I think I should have removed one or two rows in the height too.
-Finally, his position : I wasn't happy with his legs in a standing position so I chose to sew them on horizontally so that he could sit. 
Conclusion :
Despite the cons mentioned above, I'm happy with the result once all the little changes had been made. However, I wouldn't recommend this pattern to beginners as all the sewing part could be tricky and ruin it all. 
2. Creeper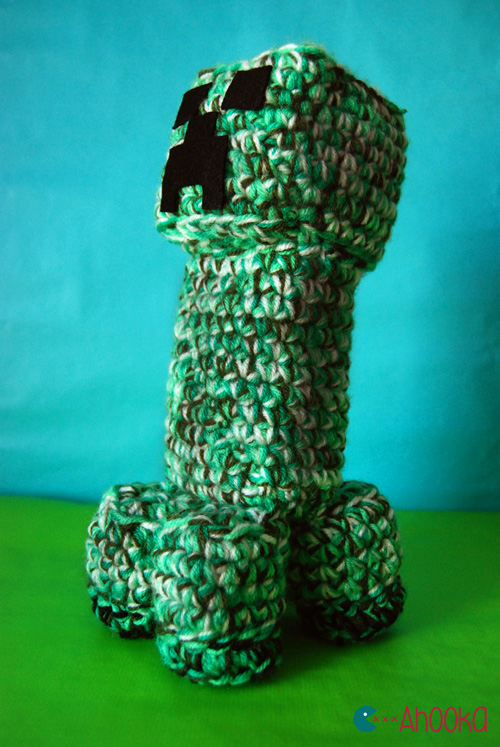 Designer : Nerdigurumi
Price : Free
Pros :
– Nothing wrong with this pattern, everything is well explained and easily achievable. 
– The picture is accurate and what you see is what you get ! 
Cons :
– The feet are a real pain in the *** to sew on, but with a little practise, nothing impossible to achieve ! (one can't skip the pinning part though !)
– The pattern is worked in joined rounds (and not in spirals) so you'll inevitably get the insightly joining line showing. Don't forget to put in on the backside of your creeper !  
– There's something a little bit odd with the part 2 of the feet, or maybe I got it wrong ! 
My changes :
– Colors : in order to render the bitmap display of Minecraft, I used 4 different colors at once. Therefore I had to work with a 7 mm hook (K) and 4 skeins of yarn ! Thus my creeper is 30 cm tall (12 inches) but I'm very happy with the result !! Furthermore, the joining line I mentioned above is way less noticeable. 
– Feet : In the pattern, you should finish part 2  of a foot with a row of slip stitches. I didn't understand that as it was shortening the outline and didn't fit anymore with part 1. So I've decided to undo that row and make a row of single crochet instead. 
Conclusion :
If you know somebody who plays Minecraft, this might be the perfect gift as it's easy and quick to make ! If you're a beginner, this pattern is achievable, even if you struggle a little with the feet, that's part of the game, isn't it?